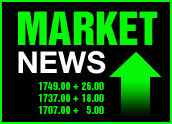 The latest round of billion-dollar mergers, strong data on home sales and talks aimed at keeping oil prices in check helped boost stocks today, with major averages adding to gains made during the previous week.
The Dow Jones industrial average rose 84.76 points, or 0.83 percent, to close at 10,242.47. The Nasdaq gained 18.59, or 0.96 percent, to finish at 1,950.78 and the S&P 500 rose 9.98 points, or 0.87 percent, to 1,162.10.
Merger News
A new spate of mergers fueled buying, including the US$1.1 billion take-private transaction involving DoubleClick Inc., the latest developments in the battle for MCI — which appear to be leading to yet another counter-bid from Verizon Corp. after MCI said it found Qwest's latest offer "superior" — and a nearly $7 billion deal in the oil refinery field in which Valero Energy Corp. would acquire Premcor Inc.
Data on home sales also made investors bullish. The National Association of Realtors said home sales rose to an annual rate of 6.89 million in March, up from 6.7 million in February, a sign that rising interest rates were not denting what has long been one of the strongest sectors of the U.S. economy.
Oil Down on Meeting
Oil futures were down today as well, dropping 82 cents to settle at $54.57 a barrel in trading on the New York Mercantile Exchange.
The drop came as President Bush met with Saudi Crown Prince Abdullah. Bush had said he would use the meeting to press for Saudi Arabia's help in bringing down oil prices.
Among individual stocks, shares of Microsoft moved slightly higher today after the software giant announced that it had hired Chris Liddell, the former chief financial officer at International Paper Co., to become its CFO starting next month.