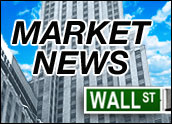 Stocks ended mixed today with a better-than-expected report on oil supplies outweighed by concern that the coming earnings season might bring its share of disappointments.
A government report said that the U.S. added 2.4 million barrels to its crude stockpile, though gasoline inventories did drop more than expected.
Oil Down
Still, the report and the lingering effects of Federal Reserve Chairman Alan Greenspan's assurances that even at current or slightly higher prices, oil would not dent economic growth helped drive futures lower by 19 cents to US$55.85 per barrel on the New York Mercantile Exchange.
That was enough to lift blue chip stocks higher, with the Dow gaining 27.56 points, or 0.26 percent, to 10,486.02. The S&P 500 also gained, rising 2.68 points, or 0.23 percent, to 1,184.07. The Nasdaq, however, slid slightly into the red, losing 0.18 points, or 0.01 percent, to finish the session at 1,999.14.
Investor sentiment might have been tempered by the arrival of earnings season, market watchers said.
A rash of profit warnings issued today raised questions about whether profits, driven higher in the past 18 months by record-low interest rates and other factors, can continue to measure up to expectations.
Earnings Warnings
Beverage giant Anheuser-Busch Cos. lowered its earnings outlook for the full year and said it would step up marketing efforts to boost sales in the U.S. Fast-food chain Wendy's International warned that its first-quarter results would be weaker than first forecast.
In the tech world, Siebel Systems warned that it would post a loss for its first quarter.
Even Wall Street darling Research In Motion, which makes the hugely popular Blackberry wireless e-mail device, said fourth-quarter sales came in below forecasts, though subscriber growth was more than twice the rate of a year ago.