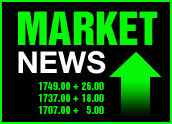 Stocks moved higher today as investors looked past the latest data hinting at economic softness and instead focused on falling oil prices.
A sharp drop in crude futures paved the way for a modest rally as Wall Street continued its recent volatility. Crude oil futures fell US$2.59 per barrel, or about 5 percent, to $51.61.
The plunge in oil prices came after a government report showing growing stockpiles of oil in the U.S. and a call from President Bush to boost the capacity to process oil by building more refineries.
Durable Goods Orders
That was enough to lift stocks. The Dow Jones industrial average closed up 47.67 points, or 0.47 percent, to close at 10,198.80. The average made back about half of the losses it suffered in the previous session.
The Nasdaq saw more modest gains, rising 2.99 points, or 0.16 percent, to 1,930.43, and the Standard & Poor's 500 climbed 4.64, or 0.40 percent, to finish at 1,156.38.
Stocks began the day with a move lower after the Commerce Department said that orders for so-called big ticket items from U.S. factories plunged 2.8 percent in March, the largest drop in more than two years and the third straight month of lower demand.
That news refreshed worries about economic strength, which has been one of several key factors — along with corporate earnings, oil prices and inflation fears — that have roiled markets in recent weeks.
Earnings Reports
Some of the earnings news out today was more upbeat. Verizon Communications, Inc., saw shares soar more than 3.5 percent after it beat forecasts for first-quarter profits on the strength of its wireless business.
On the downside was Amazon.com, which lost 4 percent after saying that tax expenses and shipping costs dented its bottom line.