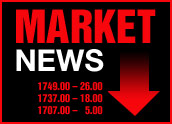 A sudden surge in oil prices and a slip in consumer confidence fueled a dramatic sell-off on Wall Street today as investors returning from a long weekend drove the Dow to its worst session in more than five months.
The Dow lost 174.02 points, or 1.61 percent, to fall to 10,611.20. The Nasdaq tumbled 28.30 points, or 1.37 percent, to 2,030.32, while the S&P 500 lost 17.42 points, or 1.45 percent.
Oil Reaches $51.15
The main culprit appeared to be oil prices, which raced to a three-month high, surging past $51 a barrel to $51.15 in New York trading, a one-day gain of $2.80.
The surge in oil prices might have spooked investors waiting on tomorrow's consumer price index report. Two previous reports, one on wholesale prices and another on import prices, have indicated some signs of inflation, which could prompt sharper rate increases from the Federal Reserve.
The oil price spike was in turn traced at least in part to the declining value of the dollar, which was hit hard in trading today, losing 1.5 percent against the euro and 1.3 percent against the Japanese yen.
Dollar-Priced Oil
While weather and possible output cuts from OPEC might have contributed to the oil price increase, traders say the weakness of the dollar has far-ranging impacts.
Because OPEC nations trade in the dollar, a weaker Greenback might push the oil producing nations to take action to boost prices. Also, oil becomes cheaper in non-dollar-based economies, likely driving up demand.
The Conference Board, meanwhile, said consumer confidence as measured by its index fell in February, as expected. The index dropped to 104, from 105.1 in January, with consumers expressing more concern about the longer-term prospects for the U.S. economy.