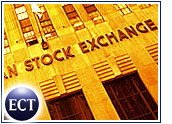 U.S. stock markets turned in their worst performance in nearly a month today as crude oil prices rocketed toward $50 per barrel and investors fretted over the future of corporate earnings.
A day after taking the Federal Reserve Board's quarter-point rate hike in stride, the markets stumbled right out of the gate and traded lower the entire session across the board.
At the close, the Dow was off. 135.75, or 1.3 percent, closing at 10,109.18, a three-week low.
The Nasdaq took an ever bigger hit on a percentage basis, plunging 35.47 points, or 1.8 percent to finish at 1,885.71. The S&P 500 also tumbled, dropping 15.74 points to 1,113.56.
Oil Marches Higher
Crude oil prices soared again today, gaining $1.59 in New York trading to close the day at $48.35.
The latest jump came after reports showed that inventories had plunged even more than the dismal amount analysts had expected due to Hurricane Ivan. Ivan passed near Gulf of Mexico oil facilities, forcing shut down of facilities and, thus, pinched supplies.
Meanwhile, corporate earnings also were a drag on the markets today. A third- quarter earnings miss by Morgan Stanley hit the financial services sector, while a profit warning from fast-food chain Wendy's hurt other companies in that sector.
Bakery Bankruptcy
Also, in the food category, Interstate Bakeries, the maker of Twinkie's and other treats, filed for bankruptcy.
In the tech sector, shares of Cisco Systems were hit by an analyst downgrade, losing more than 3 percent on the session.