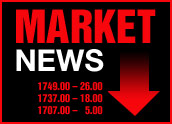 Data showing the economy growing at the slowest pace in two years during the first quarter pushed investors into selling mode today and prompted just the latest in a string of recent triple-digit losses for the Dow.
The Commerce Department said gross domestic product expanded at an annual rate of 3.1 percent in the first quarter as high oil prices and higher interest rates led both consumers and businesses to curtail their spending.
Economic Softness
Forecasts had been for a 3.5 percent growth rate, which would have represented only a modest decrease over the 3.8 percent clocked in the fourth quarter.
The GDP number was compounded by a Labor Department release saying that new jobless claims rose last week by 21,000 to 320,000.
The signs of economic softness were enough to move investors to sell off stocks. The Dow Jones industrial average fell 128.43 points, or 1.26 percent, to close at 10,070.37. The Nasdaq composite index lost an even larger fraction of its value, dropping 26.25 points, or 1.36 percent, to 1,904.18, reaching its lowest level of 2005. The S&P 500, meanwhile, was off by 13.16 points, or 1.14 percent, to 1,143.22.
While oil prices started the session by moving sharply lower, they rebounded, ending their recent skid by adding 16 cents per share to finish at US$51.77 on the New York Mercantile Exchange. Futures had dipped briefly below the $50 level in early trading before they made a comeback.
Strong Earnings Reports
Lost amid the economic data were several strong earnings reports. Consumer products giant Proctor & Gamble posted a 13 percent jump in profits and beat Wall Street forecasts for the first quarter and also boosted its outlook for 2005. Cereal maker Kellogg Co. likewise boosted its outlook after posting huge gains in profits.
Shares of Exxon Mobil were sharply lower, however, after that company reported a profit jump of 44 percent that was made up largely of one-time gains. The results also narrowly missed forecasts.