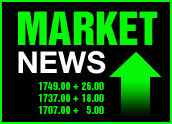 Evidence that the housing market continues to chug along was outweighed by a drop in consumer confidence and led to a sell-off on Wall Street today.
The Dow Jones industrial average dropped 91.34 points, or 0.9 percent, to 10,151.13. The Nasdaq lost 23.34 points, or 1.2 percent, to finish at 1,927.44 and the S&P 500 gave up 10.36 points, or 0.9 percent, to end the session at 1,151.74.
Economic Indicators
The markets fell after The Conference Board reported that its Consumer Confidence Index dropped 5.3 points to 97.7 for April, the lowest level since November and slightly below forecasts.
Consumers are reacting to slowing economic indicators as well as higher fuel prices, the board said, adding that its expectations index was particularly hard hit in the latest reading, dropping to its lowest level since July of 2003.
That data outweighed any positive sentiment created by word that the housing market continues to be red-hot, despite higher interest rates. The Commerce Department said new home sales rose 12.2 percent last month to the highest level in history, an annual rate of 1.43 million.
Oil Drifts Lower
There was continued good news on the oil price front, with futures falling another 37 cents in New York trading to $54.20, and with the dollar, which moved higher against both the yen and euro.
Among individual stocks, IBM gained more than a percent after announcing it would become just the latest in a line of tech companies to launch a major stock-buyback campaign. Big Blue said it would buy as much as $5 billion of its own stock and also said it would boost its quarterly dividend paid to shareholders by 2 cents a share to 20 cents.
Meanwhile, earnings continued to provide mixed results. Chemical giant DuPont Co. saw its shares hammered after missing profit forecasts and issuing a disappointing outlook for the rest of the year, while Lockheed Martin Corp. boosted its own forecasts.