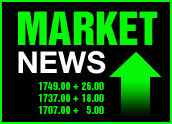 A late day rally in oil prices and nervousness over the Federal Reserve's pending meeting kept a lid on a would-be rally on Wall Street today, with stocks managing modest gains.
Stocks had moved sharply higher early in the session, largely on the strength of a continued decline in crude oil futures. By session's end, however, oil had reversed course. Futures gained $1.20 to finish at $50.92 in New York Mercantile Exchange trading.
Fed Meeting
That and the usual uncertainty that faces the markets as the Fed gathers — its meeting starts tomorrow — was enough to take the wind out of the sails of the rally.
The Dow Jones industrial average rose 59.19 points, or 0.58 percent, to 10,251.70. The Nasdaq gained 7 points, or 0.36 percent, to 1,928.65, and the S&P 500 rose 5.31 points, or 0.46 percent, to finish at 1,162.16.
The Fed's Open Market Committee will consider whether to raise interest rates again when it meets, with most analysts expecting yet another quarter-point hike in overnight rates. In recent weeks, fears of a larger hike were kindled by some data showing hints of inflation, but more recent numbers showing a slowing economy have largely dissipated that concern.
Instead, investors will likely be looking to the Fed for a hint on the strength of the economy. The latest data on that front came today from the Institute of Supply Management, which said its index of factory activity fell for the fifth straight month to 53.3 in April. Any number above 50 still represents expansion, however.
Merger Activity
Once again, merger activity was a major driver of stock movement. Qwest shares moved slightly higher after the telecom company said it would bow out of the bidding for MCI, letting rival Verizon buy the long-distance company for $8.5 billion. Shares of MCI and Verizon were both lower on the session.
Retailer Neiman Marcus saw its shares lose more than 5 percent after the company said it would be bought out in a $5.1 billion sale to two private equity firms.