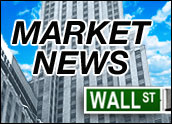 Stocks lost ground today after a report showed a spike in weekly jobless claims and following the downgrade of the corporate debt of the two largest U.S. car markers to "junk" status.
The Dow, which rose 120 points yesterday, lost 44.26 points, or 0.43 percent, today to close at 10,340.38. The Nasdaq basically held steady, closing at 1,961.80, a gain of 0.43 points, or 0.02 percent, while the S&P was off 3.02 points, or 0.26 percent, to 1,172.63.
Unemployment Claims
The markets moved lower after data from the Labor Department showed a jump in weekly jobless claims, with filings rising to 333,000 last week. The four-week average, however, did show a slight drop to 321,500. The agency also reported a 2.6 percent increase in productivity in the first quarter.
Later in the session, credit rating firm Standard & Poor's announced that it would cut the rating on the debt of both Ford and General Motors to "junk" status.
The downgrade could significantly increase the cost of borrowing for the automakers, which have reported sagging sales even as their Japanese counterparts report increases. GM shares lost nearly 6 percent; Ford shares were off 5 percent on the session.
Retail Gains Ground
In addition to the productivity gains, there was good news on the retail front. The International Council of Shopping Centers-UBS index of results from some 70 chains showed a 2.2 percent gain in sales for April.
Wal-Mart and Target, the two largest chains, had sales growth come in under forecasts, but both saw their stocks gain ground today on improved outlooks from other retailers.
On the energy front, oil futures gained ground, rising 70 cents per barrel to US$50.83 as the ability of suppliers to meet long-term increases in demand worldwide remains a concern for many investors.