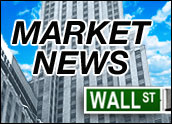 Markets finished mixed today after the Federal Reserve stayed true to recent form by boosting overnight interest rates by a quarter point for the eighth consecutive time.
The Dow gained 5.25 points, or 0.05 percent, to close at 10,256.95. the Nasdaq was also higher, adding 4.42 points, or 0.23 percent, to 1,933.07. The Standard & Poor's 500 index, however, slipped slightly, losing less than a point to 1,161.17.
'Measured' Rate Hikes
The Fed's Open Market Committee offered investors a little insight into how it felt about the economy, saying: "Recent data suggest that the solid pace of spending growth has slowed somewhat, partly in response to the earlier increases in energy prices. Labor market conditions, however, apparently continue to improve gradually. Pressures on inflation have picked up in recent months and pricing power is more evident."
Investors are eager to know whether the Fed feels that inflation is more of a concern or whether recent economic data showing a slowdown will carry the day and prompt the Fed to shelve rate hikes for a while. The Fed stuck to it's now year-old language about maintaining a "measured" approach to hiking rates.
The latest economic data came in the form of a small increase in March factory orders, with the Commerce Department saying orders rose 0.1 percent to US$378.2 billion after a 0.5 percent plunge in February. That edged out forecasts, which had called for a flat reading.
IPO Star
Wall Street saw a successful initial public offering today, though it was far from a dot-com era blockbuster. Morningstar, the mutual-fund rating service, saw its stock gain more than 8 percent in its first session of public trading, closing at $20.03.
U.S. automakers more than countered that good news, however, with Ford and General Motors both reporting lower sales in April. Their Japanese rivals, however, including Toyota and Nissan, reported a strong month.
Oil prices resumed their decline today after rebounding slightly yesterday. Futures fell $1.42 to $49.50 per barrel on the New York Mercantile Exchange as investors bet that the weekly report on U.S. energy supplies would show another increase in fuel stockpiles.