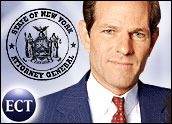 In what some see as a hint of additional fallout to come from the first major enforcement action against spyware being planted through otherwise legitimate Web sites, Ask Jeeves has found it necessary to respond to accusations that its various sites enable downloading of unwanted programs.
Meanwhile, the office of New York Attorney General Eliot Spitzer said the investigation that last week resulted in a lawsuit potentially worth tens of millions of dollars against online marketing firm Intermix, continues and could result in additional actions against more Web companies.
Intermix is accused of enabling programs to be downloaded onto the computers of users without their knowledge, programs that directed them to certain Web sites or made ads appear on their screens. Intermix has said it is working with Spitzer on a settlement and defended its actions, saying that it has already stopped distributing many of the programs.
Massive Shockwaves Possible
Though Spitzer's office declined to say which companies might be involved, the agency says it collected information on approximately 30 companies during the inquiry that led to the Intermix suit and that the investigation continues.
The fact that such a large number of apparently legitimate companies might be involved could cause massive shockwaves through the e-commerce industry. The Web industry — from portals and search sites to pure e-commerce companies — rely heavily on third-party affiliates to refer traffic, send possible buyers their way, and to generate revenue through click-through agreements.
All that intermingling increases the likelihood that companies might have unknowingly struck a deal with a company that in turn allowed another company to install programs on users computers.
Whether those programs technically constitute "spyware" is open to debate. In fact, in a statement issued in response to accusations that some of its branded search tools were being flagged by some security programs as spyware, Ask Jeeves said that its tools do not collect any personal information about the user.
Changing Rules?
Ask Jeeves, the search engine that is slated to be bought later this year by Interactive Corp./ IAC, also found itself answering questions — first raised by anti-spyware blogger Ben Edelman — about some of the other sites that it acquired when it bought Interactive Search Holdings last year.
The firm also said it was terminating an agreement with a Web site called FavoriteMan, which bundled some of Ask Jeeves' custom search tools with downloadable freeware games it gave away on its site.
Ask Jeeves also noted that the specific rules of marketing online are constantly evolving. Indeed, surveys have revealed that consumers will put up with techniques such as information-gathering about their Web activities in exchange for improved functionality.
However, pop-up ads are almost universally detested and have been ever since e-commerce firm X10.com gained infamy by using them to turn itself, briefly, into one of the heavily visited sites on the Internet.
Some firms estimate that the market for ads delivered or generated by adware programs without a user's consent is currently worth around $2 billion a year.
Cleaning House
The entanglements could easily rope in big-name companies with hard-fought reputations for clean Web practices. For instance, while it isn't known whether Yahoo is a target of the investigation, the portal is connected to Intermix through Overture, which in the past has accounted for as much as 10 percent of Intermix' annual revenues.
The implications are immense, since legitimate advertisers are likely to move quickly to distance themselves from companies with ties to known or even alleged spyware practices.
Ari Schwartz, deputy director of the Center for Technology and Democracy, told the E-Commerce Times that companies are starting to realize the damage that can be done to individual corporate reputations and the overall health of the Internet economy through the types of actions for which Intermix stands accused.
"People need to trust what happens on the Web sites they visit," Schwartz said. "Consumers have to take steps to protect and educate themselves. They need protection from regulators and lawmakers, but they also need to be able to trust the apparently legitimate parties they deal with online."