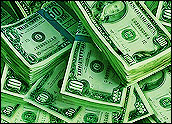 In a reminder that investors remain hungry for chances to back social networking firms, LinkedIn announced it has closed a fourth round of funding worth US$53 million.
The investment places a valuation of "slightly over $1 billion" on the firm, which bills itself as a professional and business-focused alternative to less formal networks such as MySpace and Facebook, said CEO Dan Nye.
Bain Capital Ventures, a Boston-based private equity firm known as much for its takeover activities as its venture investing, led the round. Silicon Valley firms Sequoia Capital and Bessemer Venture Partners and Boston-area venture capital firm Greylock Partners, all of which had invested previously in the firm, also took part.
Increasing Flexibility
The venture infusion brings the firm's total capital raised to date to $80 million. LinkedIn has been profitable since 2006, the company says, with much of its revenue coming from subscription fees that some of its 23 million active members pay to access premium services.
"This additional funding will give us even more flexibility to execute on our vision for millions of professionals to increase their effectiveness by using LinkedIn to build relationships and exchange knowledge, opportunities and advice," Nye wrote in a blog post announcing the deal.
Demographic Shift
Founded late in 2002 and launched in May of 2003, Mountain View, Calif.-based LinkedIn now has 310 employees. A new person joins the network every 2 seconds on average, according to a corporate fact sheet provided to the E-Commerce Times.
While Facebook helped bump up the median age of the average social network user — by appealing to those in college and beyond, while MySpace found its niche mainly with younger users — LinkedIn has sought to take that progress even further. It says its average user is 41 years old and is a professional or aspiring professional looking to network in support of a career or business. All of the Fortune 500 companies have C-level executives on the network, and more than 80 percent of the employees at both Microsoft and Cisco are members, the firm says.
Over the past year, LinkedIn has grown by 361 percent, according to Nielsen Online data, compared with 3 percent growth for MySpace and 56 percent growth for Facebook, both of which are much larger in size. Even with a $1 billion price tag, LinkedIn remains a relatively small player in the space. When Microsoft purchased a stake in Facebook last year, the investment helped value the site at $15 billion.
Advertising Hurdles
Still, questions linger about monetization and business models of such sites, which hope to be able to use targeted advertising — theoretically rendered more valuable by the ability to leverage the wealth of personal information users voluntarily turn over to the sites — to drive revenue and profit.
LinkedIn has said it is adding more than 1 million new users each month, though it has not said how many of those are opting for premium services.
The valuation may be justifiable based on the sheer numbers alone, business consultant Mark Amtower told the E-Commerce Times.
"My guess is the vast majority of LinkedIn members would opt to stay on if they were told the service had a minimum charge," noted Amtower, who said he regularly uses the site and pays $19 per month for upgraded services. If half of the users stayed after a fee was added — LinkedIn has not said it has plans to do so — that could represent well over $100 million per month in revenue, he noted.
"I recommend to my clients and those I coach that LinkedIn is a very important tool when used properly," he added.
Open for Business
Last year, LinkedIn followed the lead of other social networks by opening up its programming code to third party developers, a move that has brought more tools and gadgets to the site.
That openness may help LinkedIn remain relevant in the fast-changing social networking landscape, as will its focus on the business world, Gartner Research Vice President Andrew Frank told the E-Commerce Times.
"People might migrate from site to site over the course of their Internet lives, but having an open platform that can travel into other applications may help keep users from straying," he commented. "LinkedIn has a different look and feel, and that's by design — they're going after a different audience who brings a different set of expectations and goals to the site."
The network has also added a host of premium services, including job listings and enhanced access to information about others who belong to the site, as a way of driving non-advertising revenue. Users who come to trust the site and find it useful for locating information — it now enables users to post questions about business topics and receive answers from across the network — are more likely to pony up for monthly fees, Frank noted.
The site works for professionals because of the nature of business networking, said Kay Paumier, the owner of communications consulting firm Communications Plus.
"Usually, our close friends can offer little help in finding a new job or opportunity. They operate in the same circle of influence that we do and are exposed to much of the same information," Paumier told the E-Commerce Times. "To freshen our exposure to new information, we must activate our weak ties, since those ties bridge us to different places, information and experience. That's why LinkedIn works and why it has been valued so highly."