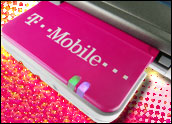 Four months after Starbucks named AT&T as its new WiFi provider, T-Mobile has filed a lawsuit against Starbucks, saying the chain is causing the carrier financial harm by giving away access on its networking infrastructure.
T-Mobile is claiming that Starbucks engaged in "willful breach of contract and unfair competition" by launching a free WiFi promotion with AT&T.
T-Mobile began providing WiFi for a fee in Starbucks stores in 2002, and over time invested heavily in the infrastructure that is now being used in all but two markets nationwide as part of a promotion in which Starbucks customers can get free WiFi by buying a Starbucks product or using an affinity card, the lawsuit claims.
The suit, which the company filed Thursday in New York, essentially claims that the new service uses T-Mobile gear and infrastructure in markets that have not yet been outfitted with AT&T WiFi.
"If AT&T or Starbucks wanted to offer 'free' WiFi in non-transitioned stores for Starbucks customers as they are now doing, they should have and, indeed, were contractually required to negotiate such an arrangement with T-Mobile," the action reads.
Making the Switch
Starbucks announced the switch to AT&T in February, saying at the time the change would enable AT&T customers to have more access choices. The switch helped gives AT&T the largest nationwide network of WiFi hotspots and decimated the network of T-Mobile, which is left with a couple thousand commercial access points.
Starbucks recently announced that customers who use its Starbucks Card would be able to get two hours of free WiFi access every day. AT&T is also offering a per-day and monthly paid option through the Starbucks hotspots.
The promotion is part of a larger push by Starbucks to generate more customer loyalty and revive lagging growth while shuttering as many as 100 shops around the country.
T-Mobile claims the coffee house and AT&T are violating a transition agreement crafted to enable the switch to be a smooth one and are taking advantage of a two-way roaming agreement in which paying AT&T customers can get onto the Web through T-Mobile hotspots — and vice versa.
T-Mobile claims that just two markets — Bakersfield, Calif., and San Antonio — have transitioned to the AT&T network, and says in the suit that the free promotion is not covered by the roaming agreement because users are not purchasing AT&T WiFi access directly from the carrier.
T-Mobile is asking for unspecified monetary damages as well as an injunction to halt the promotion from being carried out in stores that have yet to switch to the AT&T network.
Helping AT&T
In some ways, Starbucks may be the pawn in the battle between the two wireless carriers, with AT&T getting a huge boost from the switch, according to Current Analysis analyst Bill Ho.
"With the 7,000 Starbucks locations, AT&T's WiFi network now has a broader national appeal," he told the E-Commerce Times. "The deal grew its footprint by 70 percent overnight."
Having more WiFi spots may also help AT&T drive data usage overall among customers, which can help improve its bottom line significantly, Ho added. AT&T has already indicated it would give free Starbucks access to its high-speed Internet customers as a benefit that could increase bundling as well.
T-Mobile did not respond to a request for comment on the suit, which does not name AT&T as a defendant. Because T-Mobile is seeking an injunction, it may get a hearing on the action relatively soon.
To WiFi or Not to WiFi?
Starbucks is moving to ensure that free access remains in place at all of its stores, company spokesperson Stacey Krum told the E-Commerce Times.
"Our goal is to ensure WiFi access at all Starbucks locations," she said. "This is a benefit offered to our Starbucks Card Rewards members as well as AT&T subscribers, and steps are being taken to ensure that this access continues."
Still, it's not clear whether the battle is over a technology that will remain viable and important for very long. While building out WiFi networks was the focus of many telecom companies at one point, several have turned their focus to other access technologies, including third-generation mobile, or 3G, and WiMax, the technology that Sprint is embracing to provide high-speed wireless Web access.
Still, in the near term, there is value in having a captive audience in locations as ubiquitous as Starbucks, JupiterResearch analyst Julie Ask told the E-Commerce Times.
"This creates a lot of contact points that can be used to start building loyalty," Ask said. "Free trials and offers are a great way to get customers in the door so they can be converted." With AT&T and Verizon already pulling away from a pack that includes second-tier wireless firms such as T-Mobile, the smaller company may have legitimate concerns about losing more customers to its larger rival over time, she added.