Sooner or later, small-to-medium-size businesses (SMBs) engaging the e-commerce market and looking to grow must buy into a more workable solution for the demanding customer experience (CX).
Smaller enterprises often discover they are priced out of typical CRM platforms' high-tech, big feature offerings. Mikel Lindsaar, founder and CEO of StoreConnect, noted that merchants often must settle for the functionality bundled into their chosen software platform.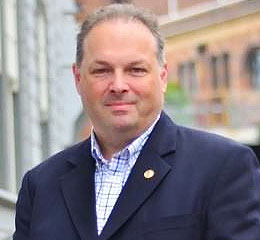 Over the past several years, Lindsaar has been refining StoreConnect, a platform he believes offers a better option for small- and medium-sized businesses. In September, he announced his e-commerce App Exchange package called "Customer Commerce" for Salesforce CRM at that company's Dreamforce 2023 event in San Francisco.
Customer Commerce is a significant turning point in the e-commerce industry that Lindsaar calls Salesforce 2.0. It empowers SMBs to build strong customer relationships and deliver exceptional service by prioritizing customer satisfaction and business growth.
"The Customer Commerce category that we created from an idea that there is a whole suite of things that you need to do to enable a full beautiful e-commerce experience with your customers," he told The E-Commerce Times.
"E-commerce is just one aspect of that. You need service, you need support, you need all of these things that fit around at the point of sale, like multiple storefronts, subscriptions, all these sorts of things."
Quest To Solve E-Commerce Pain Points
StoreConnect aims to encourage progress in the e-commerce industry that prioritizes customer satisfaction and business growth on a new level. Lindsaar hopes the announcement at Dreamforce 2023 will set into motion a new software category for SMBs to consider using: Customer Commerce.
Using data from industry reports, the company sees, in the U.S. alone, $840 billion worth of sales revenue lost annually due to inferior customer experience. That supports the notion that e-commerce SMBs grapple with providing a seamless experience for online shoppers.
Slow websites are another pain point for SMBs. According to analytical data, 79% of customers do not return to an online store after experiencing a slow-loading website. Even more challenging is the impact of other negative customer service experiences.
Consider that 73% of consumers abandon a brand after three or fewer inferior customer service experiences. Industry reports also show that 80% of consumers prioritize speed, convenience, expertise, and friendly service for a positive customer experience.
A Different Approach to Scalable E-Commerce
According to Lindsaar, end users can run everything out of one location with a single source of truth about their customers without dealing with technology. The StoreConnect platform replaces different subscriptions to all these various bits of software. It handles e-commerce and mailing systems, as well as support systems.
"We replace all that with a single system that lets SMBs get on with business, which is selling to their customers," he said.
Lindsaar selected Salesforce CRM for its comprehensive functionality, features, and capabilities. He highlighted that one of Salesforce's strengths is its scalability. Unlike other CRMs that businesses might outgrow, Salesforce is designed to adapt as a business expands.
According to Lindsaar, the platform allows for continuous growth and extension, effectively removing the limitations often encountered with less flexible solutions.
"I think that is really the key difference between what we can provide and some of the other solutions that pigeonhole you into default fields. Every business is different, and you need to be able to modify that and change it to your business or settle for wasting time and money," he said.
The company has more than 70 StoreConnect and Salesforce partners globally that specialize in different types of industries for small businesses.
Solving E-Commerce Issues
Small businesses go through a sales process talking to Salesforce to get their CRM platform. At the same time, they buy the Salesforce license. Vendors cannot use StoreConnect without being a Salesforce licensee, as the two products are intertwined.
The onboarding process for adding StoreConnect is handled by a partner service, depending on the vendor's location. As an example of how hassle-free the process is, Lindsaar recounted a recent client who started a brand-new company in June 2022.
After obtaining the Salesforce and StoreConnect licenses, they launched their plumbing supplies business website. That process took about four days.
They grew the plumbing supplies business over the last year to the point where they're hitting all their sales targets. All the business data was collected on Salesforce CRM, but StoreConnect packaged all the data in one comprehensive record.
"The two company owners did not have to fight this situation where some data is in the e-commerce platform. Some are in the support system, and some are in the mailing system. Everything is just in that one platform, so they were able to expand with the business's growth and avoid the stumbling blocks that SMBs tend to run into as they start growing," Lindsaar explained.
StoreConnect and Salesforce Dual Strategy
It may sound like once SMB retailers engage with StoreConnect's new offering, they can ditch Salesforce CRM. That would be a wrong assumption, noted Lindsaar.
The Customer Commerce tools provide a platform for retailers to monitor their business activity over the CRM installation. It pulls everything together in a unified location from the different aspects of Salesforce's software.
From the shoppers' point of view, they do not see a Salesforce ID on the website or product listings. On the retailer's website, though, Customer Commerce installs connections and other tools to the vendor's Salesforce organization.
"We add all the various fields that we need and the pages and the articles and the post pages and all this sort of stuff that you need to manage your business. When you are logged into Salesforce, you see all of the installed Store Connect records and objects," he said.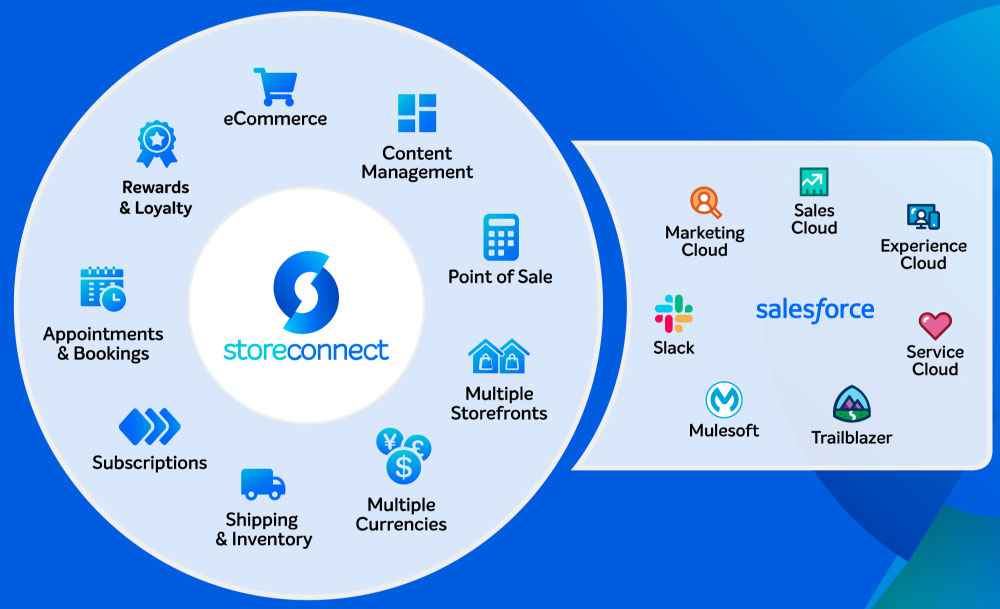 StoreConnect is an e-commerce AppExchange package for Salesforce.
---
In actuality, the vendor logs into Salesforce and uses Salesforce but gains all these other records and data that you can then modify and edit within that platform. So StoreConnect provides the missing e-commerce platform features not offered in one full dose on Salesforce for SMBs.
"Salesforce has an e-commerce solution targeted at mid-market to enterprise users. The price points, how much it costs to set up and install, is definitely not a self-service solution at the higher levels," noted Lindsaar.
Favorable Pricing Advantage
The highest-priced StoreConnect solution is approximately equivalent to the least expensive plan offered directly by Salesforce, according to Lindsaar.
The pricing structure targets a similar level of experience that the large sales organizations already enjoy with Salesforce CRM alone.
"We have now brought that down to that small-to-medium business market," he said. "We have a whole bunch of new features ready to go over the next few months."
The StoreConnect add-ons integrate seamlessly with Salesforce, eliminating the need for third-party vendors to develop additional features on the Salesforce platform themselves, Lindsaar concluded.