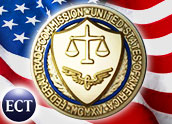 The Federal Trade Commission has started a formal inquiry into the pricing practices of leading chipmaker Intel, a move that rival Advanced Micro Devices has long requested.
The FTC recently opened the formal investigation by issuing subpoenas to Intel and AMD, as well as other parties, including the personal computer makers who buy chips from the two companies.
Intel confirmed Friday it is cooperating with the FTC's inquiry and had received a subpoena. The FTC has been conducting an informal review for nearly two years now.
AMD did not respond to requests for comment on the report. A spokesperson at the FTC said the commission would not confirm whether an investigation was under way. The FTC's subpoena power means it can get documents and testimony from other parties, including those who may not wish to cooperate with the investigation.
The action represents be a reversal of the commission's earlier position, which has been not to take steps to formally look into AMD's claims that Intel has used its market dominance to artificially lower the prices of computer processors.
Korean Fines
AMD is already suing Intel directly under antitrust statutes, making similar claims about anticompetitive pricing. Though that case has been wending its way through the system for some time already, it now appears it could be another two years before it even makes it into a courtroom.
Meanwhile, Korean regulators hit Intel this week with a $25.4 million fine for violating that country's antitrust laws.
Intel confirmed both the U.S. inquiry and the Korean fine in a single filing with the Securities and Exchange Commission on Friday. The company is weighing whether to appeal the ruling from the Korea Fair Trade Commission, which said Intel was guilty of "abuse of dominance."
"Intel representatives have stated that the company is extremely disappointed by the decision of the KFTC, and believes that the ruling represents an outcome that will dampen, not enhance, the price competition that has resulted in lower prices for customers and consumers," Intel wrote in the filing. "The company will review the ruling and it is presently expected that Intel will request a further review from the KFTC and, if it proves necessary, an appeal which will permit a Korean court to review the case in its entirety and reach its own decision in the matter."
Korean regulators fined Intel for offering what they said were improper discounts to Korean-based PC makers Samsung and TriGem between 2002 and 2005, price cuts that AMD had complained were instrumental in keeping those companies from using its chips.
Chip Prices
With respect to the U.S. situation, Intel said it had received a subpoena from the FTC "related to Intel's business practices with respect to competition in the microprocessor market" on June 4.
"By proceeding to a subpoena, the Commission will be able to obtain not only information that Intel has already committed to provide but also information from other parties," Intel said. "Consistent with its standard practice, Intel will work cooperatively with the FTC staff to comply with the subpoena and continue providing information. The company believes its business practices are well within U.S. law."
The steady decline of microprocessor prices is "evidence that this industry is fiercely competitive," Intel commented, citing a 42.4 percent drop in processor prices from 2000 to end of 2007. "When competitors perform and execute, the market rewards them. When they falter and under-perform, the market responds accordingly."
"Intel has long been facing these accusations and has been able to keep them at arm's length," Gartner analyst Martin Reynolds told the E-Commerce Times. "They seem to be coming to a head now on various fronts."
Making it Real
In addition, Intel is also awaiting a judgment from the European Commission regulators, who accused the company of steering would-be customers away from AMD with pricing incentives and threats to PC makers on the continent. The European investigation began with a dramatic raid on the offices of Intel and some of its customers in Europe in 2005.
"Having regulators step up makes it difficult for Intel to argue that it's just competitors who are failing who are making the noise," Reynolds commented. Still, the market for PC processors is unlikely to be dramatically affected by the actions unless Intel is forced to make dramatic changes to its business to remedy the market imbalances, he added.
AMD enjoyed a brief surge against its much larger rival during 2005 and 2006, when it beat Intel to market with 64-bit processors. The gains were relatively short-lived, however, and once Intel matched the technology, AMD found itself again slipping back in the market share horse race.
The pain AMD feels from Intel's actions may depend on how robust the overall market is, noted Mercury Research President Dean McCarron. Lately, chip sales have remained strong, posting nearly 4 percent growth worldwide in the first quarter, according to the Semiconductor Industry Association.
"AMD doesn't need to be Intel-sized to be successful," McCarron told the E-Commerce Times. AMD recently underwent a significant restructuring that included job cuts and plant realignments. "It has been consistent in its complaints about Intel, and now it appears more and more people are listening."