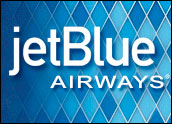 Signaling JetBlue Airways' belief that travelers want to stay connected at all times, its LiveTV unit has agreed to buy Verizon's Airfone business, a move that will enable the discount carrier to offer a bundle of communications services during flight.
A JetBlue LiveTV spokesperson who asked not to be named told the E-Commerce Times that a deal has been reached, but did not provide details, such as the transaction price.
The Wall Street Journal first reported the sale on Monday, saying the transaction will give LiveTV control of 100 air-to-ground towers owned by Airfone a well as its existing stable of private and government aviation clients.
The handover is not expected to be completed until Jan. 1, 2009.
Because LiveTV provides services to other airlines as well as JetBlue, the move could accelerate the trend toward bringing a range of communications tools to airline travelers.
JetBlue has already staked an early claim to leadership in the in-flight messaging arena, recently outfitting one of its planes with a WiFi network — through a partnership with BlackBerry maker Research In Motion and Yahoo — that will enable users to send and receive e-mail and instant messages while on board.
Turning On, Not Dropping Out
LiveTV's main business currently is in reselling video services to airlines and providing the DirecTV video and XM Satellite Radio services JetBlue features on all of its aircraft. JetBlue has made it clear it wants to expand its in-flight lineup of services to include more messaging capabilities.
The WiFi-equipped aircraft, known as "BetaBlue," began service in December — it is used on cross-continental flights — and the purchase may be a sign that JetBlue wants to roll out more in-flight services faster than it currently has the capacity for. The move could also help it make the services more profitable, since it was buying access to the cell tower network from Airfone.
Meanwhile, Airfone is now a fraction of the size it once was, having peaked during the 1980s and early 1990s when seatback telephones were a ubiquitous sight on commercial aircraft. The market saturation of mobile phones means passengers were willing to wait until a plane landed to make their calls rather than paying the dollars-per-minute charges for the on-plane option.
The Airfone purchase could also put JetBlue in a strong position against competitors if the Federal Communications Commission changes its stance on in-flight cell phone use. Currently, such calling is prohibited, but the FCC has at least toyed with the idea of dropping the ban in recent months.
Messaging may be a much more passenger-friendly way of keeping people connected while flying, telecom industry analyst Jeff Kagan told the E-Commerce Times.
Even business travelers who need to stay connected recognize that allowing mobile calling during flights is problematic, he said.
"We all would love to stay in touch with everyone that is important to us. That's not the problem. The problem is flying is loud," Kagan commented. "In order to be heard on the phone, you will have to yell. The only thing that kept the seatback phones from being abused was the high price. If anyone needed to make a call, it was generally quick. The only ones who could afford an expensive call were executives with expense accounts, and they wouldn't want to yell their conversation for competitors to hear."
European regulators may have opened the door for in-flight calling by setting rules on how passengers would be charged for such calls, but consumer resistance alone may keep the trend from spreading.
The Weight of Words
Still, airlines facing turbulent seas of red ink as oil prices soar may see charging for messaging services as a way of helping their bottom lines in a method that is more consumer-friendly than charging for luggage or eliminating snacks.
Airlines may also help their own public relations cases in another way, by enabling passengers to stay connected during times when planes are delayed. JetBlue suffered through a huge customer backlash after it stranded scores of passengers on runways during a Northeast winter storm in February 2007.
Still, in-flight data services have grown mainly by fits and starts, noted ABI Research analyst Jake Saunders. Late in 2006, Boeing disconnected its Connexion service that a number of airlines had begun to adopt. That service, which was live for about two years, was likely a victim of relatively high pricing — passengers could get a half-hour of access for US$10 or a full flight's worth for $30, he told the E-Commerce Times.
"For in-flight WiFi to be worthwhile for the airlines, it would have to be affordable and attractive to all passengers, not just those on a business account or traveling in first-class," Saunders said. JetBlue has a track record of democratizing services such as video — giving users individual control, rather than forcing them all to watch a single movie — he noted, and could gain a competitive edge, at least for a while, by being first to offer a wide open service. "As soon as it proves to be something passengers want, others will follow."
For its part, Verizon is in the midst of a reshaping of its own business, with its Verizon Wireless business announcing last week it will buy competitor Alltel for $28.1 billion.