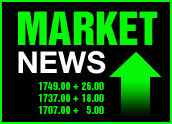 Stocks rebounded today as further declines in oil prices, which dipped below US$50 a barrel for the first time in two months, and data showing inflation being kept at bay provided relief from recent economic bad news.
Though they fell short of making back all of the losses they sustained in a dismal session yesterday, markets did bounce back sharply.
The Dow Jones industrial average climbed 122.14 points, or 1.21 percent, to close out the week at 10,192.51. The Nasdaq lagged slightly in the recovery, gaining 17.47 points, or 0.92 percent, to 1,921.65. The S&P 500 also made strong gains, adding 13.63 points, or 1.19 percent, to 1,156.85.
Oil Prices Fall
The gains were enough to give the Dow and S&P a winning week, up 0.34 percent and 0.41 percent, respectively. The Nasdaq lost 0.55 percent for the week, however.
Investors were relieved to learn that inflation that had crept into data last month seemed to have retreated. The Commerce Department reported a 0.5 percent increase in income and a 0.6 percent hike in spending for March, levels about in line with expectations.
However, the main impetus for the rally appeared to be oil prices, which skidded US$2.05 per barrel to $49.72 in New York Mercantile Exchange trading, the lowest closing price since mid-February and nearly $9 below recent record highs.
Oil prices have fallen due to a number of factors, including growing supplies of crude oil in the U.S. and concerns that a weaker American economy would result in less demand. President Bush also presented his energy plan this week, calling for the construction of more refineries along with other initiatives, and said he would push hard for its passage.
Fed on Deck
The volatility of recent sessions is somewhat surprising given that the Federal Reserve is slated to convene next Tuesday to consider interest rates yet again. Investors often stay on the sidelines in the days before such meetings. Most watchers say another quarter-point hike to an overnight rate of 3 percent is the most likely scenario.
Merger discussions, meanwhile, were also fueling stock buying today. A rumored deal between Oracle and Siebel Systems sent Siebel shares higher, while Sun Microsystems saw its stock rise 7 percent after published reports said the software company was considering a leveraged buyout with a private equity firm.