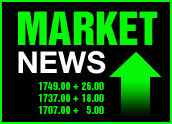 With the Federal Reserve's latest meeting in the rear view mirror, investors were in a buying mood today, driving the Dow to a triple-digit gain and adding 1.5 percent to the Nasdaq.
The Dow Jones industrial average roared higher by 127.69 points, or 1.24 percent, to close at 10,384.64. The Nasdaq was up 29.16 points, to 1,962.23, a 1.51 percent jump that made it the day's biggest gainer on a percentage basis. The S&P 500 was also higher, gaining 29.16 points, or 1.25 percent, to finish at 1,175.65.
Mergers, Earnings
A range of factors were cited for the uptick, from good economic news to the latest merger activity, including the prospects that investor Kirk Kerkorian's Tracinda Corp. had offered to pay US$870 million to buy an additional 5 percent stake in General Motors. The Kerkorian news was seen as evidence that the prospects of GM, which has struggled in the face of overseas competition and flat sales, would brighten. GM shares were up nearly 18 percent to $32.75.
Earnings also fueled the rally, with Time Warner posting higher earnings on growth in its cable networks and MetLife shares gaining 12 percent after reporting a 65 percent jump in first-quarter profits and boosting its full-year forecast.
Service Economy, Oil
There was also a dose of good economic news in the form of a strong report from the Institute of Supply Management (ISM), which said the service economy index it tracks showed expansion again in April. The index did decline, from 63.1 to 61.7, still ahead of forecasts, however. Any number above 50 shows expansion.
Meanwhile, oil prices rose, despite a report showing that fuel supplies in the U.S. grew again in the past week. Oil futures were higher by 63 cents to $50.13 a barrel on the New York Mercantile Exchange. Both crude oil and gasoline stockpiles grew in the past week by some 2 million barrels each, the U.S. Department of Energy reported.