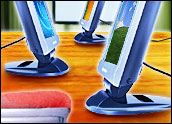 Worldwide PC shipments totaled 48.9 million units in the second quarter of 2005, a 14.8 percent increase from the same period last year, according to preliminary results by Gartner. The PC market exceeded Gartner's previous projections by 2 percentage points.
Apple Computers showed the biggest growth rate of the top five, with shipments up 31.4 percent, led by the Macintosh makers' strength in the education market, Gartner said. Latin America was the region with strongest growth in PC shipments, up 25.4 percent.
"Demand for mobile form factors accelerated sales during the second quarter," Charles Smulders, vice president of Gartner's Computing Platforms Worldwide Group, said. "Aggressive price cutting was also a significant factor in driving demand for desktop PCs."
Better Than Expected
Dell extended its lead in the worldwide market, accounting for 17.9 percent of global PC shipments. Dell experienced much higher growth rates outside of the United States, but it also grew ahead of the market rate in its domestic market, where the bulk of its shipments are made.
Hewlett-Packard's PC shipments growth rate exceeded the worldwide average, as the company performed well in the Europe, Middle East and Africa (EMEA) and Asia/Pacific regions. The quarter was a transitional time for the company, as Mark Hurd was appointed the new CEO in April, and The Personal System Group (PSG) was split from the Imaging and Printing Group after one quarter. In June, Tom Bradley was appointed as the new head of PSG.
"While the shipment picture was better than Gartner expected, it was another quarter of intense price competition for the PC vendors," Smulders said. "Even so, we expect the operating environment to get yet more difficult in the second half of 2005 as PC replacement opportunities decline."
PC shipments in the United States totaled 15.6 million units, a 10 percent increase from the second quarter of 2004. The U.S. consumer segment did well with robust mobile PC sales.
Aggressive Pricing
Dell did well in the consumer and small and midsize business segments, as its U.S. PC market share reached 32 percent in the second quarter of 2005. Apple experienced the highest growth rate among the top five vendors, as its shipments increased 31.4 percent in the quarter. Gateway increased shipments 26.6 percent, driven by sales through retail.
In the EMEA region, PC shipments increased 18.6 percent in the second quarter. Aggressive PC pricing by vendors has resulted in strong shipment growth.
In the Asia/Pacific region, shipments increased 17.3 percent in the second quarter. Mobile PC growth was very strong in the region, but China and India also attributed solid growth of desk-based PC shipments. In China, the market has been stimulated by the bundling of 17 inch LCD monitors.
Latin America showed the strongest growth in the quarter, as PC shipments increased 25.4 percent. In general, the market continues to enjoy strong macroeconomic performances.