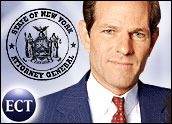 In a move that could send legal shockwaves through the Internet and e-commerce industries, New York state Attorney General Eliot Spitzer has filed suit accusing a major Web marketing firm of distributing spyware and adware to unsuspecting users.
Spitzer, who has built a reputation as a fierce watchdog and defender of consumer rights in going after everyone from spammers to Wall Street executives who pumped up e-commerce stocks, said he filed suit in New York City against Los Angeles-based Intermix Media Inc.
"Spyware and adware are more than an annoyance," Spitzer said. "These fraudulent programs foul machines, undermine productivity and in many cases frustrate consumers' efforts to remove them from their computers. These issues can serve to be a hindrance to the growth of e-commerce."
Lack of Consent, Knowledge
He said the suit follows a six-month investigation into Intermix's practices that revealed that users who visited sites controlled by Intermix had programs that generated unwanted pop-up ads or redirected to certain Web sites installed on their machines without their consent or even their knowledge.
Spitzer's suit seeks a court order enjoining Intermix from secretly installing spyware, an accounting of all revenues made on these products, and payment of penalties.
The programs allegedly were included with bundles of software from the company's freeware sites, which include mycoolscreen.com, cursorzone.com and flowgo.com, where users can download screensavers, games and other free programs. Along with the software they asked for, users often got hidden programs, such as one called "KeenValue" that delivered pop-up ads and another called "IncrediFind" that redirected certain Web addresses to Intermix's proprietary search engine.
The programs were designed to be difficult to remove as well, by shielding themselves from add/remove functions and because they did not include uninstall applications.
Old Business Model
In a statement, Intermix Senior Vice President and Counsel Christopher Lipp said the company would work with Spitzer's office to seek a resolution to the matter. He said the company had already stopped distributing the programs.
"Intermix does not promote or condone spyware," he said. "Many of the practices being challenged were instituted under prior leadership … In an abundance of caution, we voluntarily ceased distribution of the applications at issue earlier this month."
KeenValue's use was halted in 2003, he said, and Intermix announced on April 14 that it would exit the freeware business. Lipp added that none of the programs were meant to invade users' privacy or to spy on their Internet activities.
Intermix said it estimates that it has generated US$250,000 in net revenue directly attributable to downloads by New York state consumers. Spitzer said New York users alone downloaded some 3.7 million programs, with users in other states downloading "tens of millions more."
Whatever the numbers, the fallout comes on the heels of Intermix earlier this month saying it will likely post record revenue for its fourth quarter and that 2006 sales would be up as much as 45 percent as it enjoys the same resurgence in online marketing spending that is driving Google, Yahoo and other firms.
Intermix began in 1999 as a collection of community- and entertainment-focused Web sites, a network that it now uses, along with its Alena advertising group, to provide "viral" and traditional marketing services to a host of companies.
Just the Beginning?
Though Spitzer is the first to take an alleged spyware distributor to court, most analysts say others are likely to follow, with lawsuits by private individuals or classes of computer users also a likely development going forward.
The Federal Trade Commission (FTC) has focused some on spyware. Last month, it went after a firm that sold an alleged spyware detection program and barred it from making false claims about the software's effectiveness.
Ari Schwartz, associate director of the Center for Democracy and Technology, said consumers need law enforcement to protect them from spyware, as does the Internet industry.
"Deceptive practices by even a small number of Internet companies do cast a shadow on the Web as a whole," he told the E-Commerce Times.
Spyware distribution is widespread among many types of Web sites, even ones that users have come to trust as legitimate sites for downloading games and other programs. However, Schwartz said he hoped that high-profile legal action would help convince companies that might be making small amounts of revenue from the practice to abandon it for good. "This is only the first step," he added.