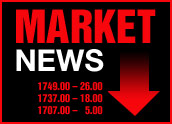 A weaker-than-expected number of new jobs, a strong report on growth in the service sector of the economy and the latest spike in oil prices converged today to drive stocks sharply lower to end the week, and starting the second quarter on a decidedly down note.
A day after closing out a dismal first quarter — the Nasdaq is down more than 8 percent since the start of the year — stocks stumbled again.
Silver Lining
The Dow lost 99.46 points, or 0.95 percent, to close the week at 10,404.30. The Nasdaq dropped 14.42 points, or 0.72 percent, to 1,984.81, while the S&P 500 was down 7.67 points, or 0.65 percent, to 1,172.92.
Still, investors could find a silver lining in the jobs data. While only 110,000 jobs were created in March, about half of the number forecast, that probably isn't enough to create the type of inflationary pressure that would prompt drastic interest rate hikes. The unemployment rate, meanwhile, dipped to 5.2 percent.
However, fears of inflation were renewed by the Institute of Supply Management report on the service economy. The ISM's service index — not expected until next week but released today — was 63.1 for March, well above the 59 reading forecast.
Oil, Again
The mixed message on the economy that sent investors running for cover was further muddled by weak sales reports from both Ford and General Motors and record sales growth for some overseas competitors.
Oil prices were again casting a shadow over the stock markets. Crude futures shot higher on reports that the U.S. had dramatically reduced its stockpiles of gasoline. Oil futures trading on the New York Mercantile Exchange closed at US$57.27 a barrel, a one-day jump of $1.87 and a new all-time record high closing price.
Adjusted for inflation, per-barrel prices would have to top $90 in order to match the current dollar highs set in 1980, however.