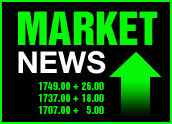 A day after a boisterous rally on strong economic news, Wall Street took a more cautious approach today, with shares sliding on oil price spikes and ahead of tomorrow's unemployment report to end a largely dismal quarter for stocks.
The Dow Jones industrial average fell 37.17 points, or 0.35 percent, to end the session and the first quarter of 2005, at 10,503.76. The Nasdaq composite index fell 6.44 points, or 0.32 percent, to 1,999.23. The S&P 500 index dropped 0.82 points, or 0.07 percent, to 1,180.59.
Oil Prices Up
The quarter was one that investors were no doubt eager to see come to a close. Since the first of the year, the Nasdaq has lost more than 8 percent and both the Dow and S&P were off more than 2 percent.
Also pressuring stock prices was another jump in oil prices, which rose after a report from Goldman Sachs predicted that oil prices could reach as high as US$105 per barrel, or nearly double current levels.
While many oil analysts dismissed the report, saying it would take a major catastrophic event to cause such an oil spike, prices were strongly higher today, with crude futures rising $1.41 to $55.30 per barrel.
Spending, Incomes Up
The latest batch of economic data seemed to back up the GDP report, meanwhile, by painting a picture of an economy in growth mode. The Commerce Department said personal incomes rose 0.3 percent, a surge attributed to the strong job growth clocked in February.
Consumer spending also rose at a strong 0.5 percent clip, while orders to U.S. factories were up 0.2 percent in another report, slightly below expectations. Finally, weekly jobless claims were up by 20,000 last week to 350,000, a number that may have spooked investors heading into tomorrow's March unemployment report.