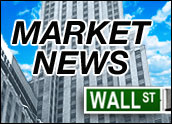 Stocks ended mixed today after a volatile session in which the latest evidence that inflation is creeping into the U.S. economy battled for investor attention with a further drop in oil prices.
The Dow Jones industrial average dropped 14.49 points, or 0.14 percent, to close at 10,456.02, adding to a nearly 1 percent drop of the session before. The Nasdaq and S&P 500 held their own and posted marginal gains by the close. The Nasdaq gained 0.88 points, or 0.04 percent, to finish at 1,990.22. The S&P closed up 0.82, or 0.07 percent, at 1,172.53.
Wary Investors
Inflation and oil battled it out all session. The Labor Department said its Consumer Price Index (CPI) of retail prices showed a higher-than-expected increase in February, with the rate rising 0.4 percent. That, plus comments from the Federal Reserve open market committee late yesterday about being on guard for inflation kept investors on the sidelines.
However, a sharp drop in oil prices helped keep losses in check. Oil futures trading on the New York Mercantile Exchange were down US$2.22 to $53.81 per barrel. The plunge came after a weekly government report showed a larger than expected build in crude supplies in the U.S. and brought the weekly drop in oil prices to around $4.
Oil prices had buffered the markets for weeks, but investors now worry that the price hikes have made their way into goods and services bought by consumers. The core rate of inflation in the CPI, which strips out food and fuel costs, was up 0.3 percent.
General Motors, Oracle
Among individual stocks, General Motor continued to struggle for footing after dropping sharply on its profit forecast a week ago. GM was said to be weighing the sale of its GMAC Commercial Mortgage unit for around $1 billion.
Oracle saw its shares rise modestly even after posting a 15 percent drop in quarterly earnings. The software maker blamed costs associated with it $10.6 billion takeover of PeopleSoft. Also higher were shares of MCI, whose board was reported to be gathering to discuss the latest, higher takeover offer from Qwest Communications.