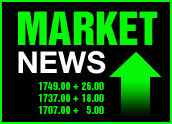 Investors came into the new week with an optimistic outlook, driving up stocks across the board ahead of a slew of data that could help color in a fuzzy economic picture.
Reports are due out this week on gross domestic product, personal income and the March employment picture, a bank of data that many investors hope will show an economy holding its own and even expanding in the face of rising prices on oil and other commodities.
Oil Prices
That optimism began to wane as the session came to a close, but stocks still ended in the black. The Dow Jones industrial average posted a gain of 42.78 points, or 0.41 percent, to 10,485.65. The Nasdaq was up by 1.46 points, or 0.07 percent, to 1,992.52, and the S&P 500 climbed 2.86 points, or 0.24 percent, to finish at 1,174.28.
The continued retreat of oil prices also helped stocks. Crude oil futures trading on the New York Mercantile Exchange were down by 79 cents per barrel to US$54.05. Oil has lost more than $3.50 per barrel in less than two weeks after reaching a new record high of $57.60 during the trading session on March 17.
More Mergers
Analysts said oil prices have slipped amid growing inventories in the U.S. and worldwide, which could mean a short-term dip in demand, though most analysts say a rebound is likely as the summer driving season approaches and as the U.S. and Chinese economies continue to expand.
Among individual stocks, mergers were again an impetus for buying. Shares of financial data company SunGard Data Systems were up nearly 9 percent after the company said it had agreed to be bought by a consortium of private investment firms for $11.3 billion.
Belief that the GDP and jobs numbers will be strong helped lift the dollar higher against both the yen and euro as well today.