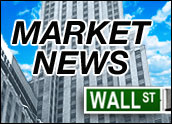 Dueling forces battled it out on Wall Street today, with persistently higher oil prices approaching record levels and stronger-than-expected retail sales leaving markets mixed.
The Dow rose 21.06 points, or 0.19 percent, to 10,833.03. The S&P 500 was also higher, rising 0.39 points, or 0.03 percent, to close at 1,210.47. However, the Nasdaq finished in the red, losing 9.10 points, or 0.44 percent, to 2,058.40.
Retail Sales Up
Positive forces included retail reports for the month of February, including a 4.5 percent same-store increase for discount giant Wal-Mart, which beat expectations, as did Target, JCPenney, Nordstrom and others.
However, oil prices remain a drag on the market overall, with prices spiking to near-record levels. Crude futures rose 52 cents to US$53.57, about a dollar below the all-time record high hit last fall. Long-range projections of higher demand is seen as one reason for the surge. The weak U.S. dollar is also being blamed, as traders seek alternate investment options.
Markets seemed to take in stride Federal Reserve Chairman Alan Greenspan's comments in favor of a revamp of the national taxation system. Greenspan expressed support for a national consumption tax, though he acknowledged such an approach would be cumbersome to implement.
Employment Figures Due
On the economic front, the Institute for Supply Management said its service sector index rose to 59.8 percent in February, and the Labor Department said weekly first-time jobless claims fell last week to 310,000, pushing the four-week average to its lowest level since October of 2000.
The ISM report lent support to the dollar, which gained slightly against the euro and yen. The jobs figures could bode well for a key piece of data anticipated all week by investors; tomorrow the Labor Department will announce February jobs numbers. Most analysts expect strong growth in employment.