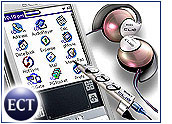 In a move that underscores the rise of the smartphone and the shrinking relevance of the personal digital assistant (PDA), Sony has said it will stop making its Clie line of portable organizers for sale in Japan later this year, a move that will mark the end of the electronics maker's five-year run in PDAs.
Sony said it will stop shipping existing Clie products in July, about a year after the company announced it would cease production of similar products for sale in the U.S. market.
Sony said in a statement the move was based on what it expects will be "future product evolution, market environment and business profitability," with respect to a shrinking market for stand-alone hand-held organizers.
Smartphones Taking Over
The electronics maker has been in the PDA market for about five years, with the Clie enjoying some traction during that stretch. More recently, however, smartphones that can perform many of the same functions as traditional PDAs — scheduling, storing contact information, etc. — plus wireless connectivity have all but decimated the market for stand-alone devices.
Sony suggested it would look for ways to stay in the market by adapting its devices to fit consumer needs. Sony already makes smartphones through a joint venture with Ericsson.
"Sony continues to view mobile devices as a key pillar to its core business growth strategy, and will continue to provide users with an environment where they can enjoy movies, games and music on a device that is easy to carry anywhere," the company said.
In the short term, the move is a blow to Palm, which provides the operating system for the Sony devices. However, in the bigger picture, analysts say it not only demonstrates the market shift toward smartphones but might actually help hasten it, and in turn help usher in an era of more robust mobile Web use and mobile commerce.
Hastening the Decline
Moves such as those by Sony are seen by analysts as accelerating the timetable for smartphones to all but wipe out the PDA market.
Gartner research Vice President Ken Dulaney told the E-Commerce Times that consumer and business users alike have quickly gravitated toward all-in-one devices and that some non-PDA devices, such as MP3 players, are even being used as portable calendars and organizers.
However, he said, smartphones are likely to continue to steal market share from one-use devices until that market is reduced to a niche segment. Already, hand-held devices have plunged in price, but the steep discounts have not proven to be enough to stop eroding market share.
"People want smartphones, so the device makers aren't going to keep pumping out organizers if that's not what's going to sell or if they have to sell them at a price that eats into their profits," Dulaney said.
IDC reported recently that hand-held device sales have dropped for four straight quarters, plunging 19 percent in the fourth quarter alone and falling below the 10 million units per year level for the first time in five years.
Trends Inside of Trends
At the same time the number of PDAs on the market shrinks, smartphones are getting boosts from all corners. Most recently, a spate of devices based on the Linux operating system were introduced by various handset makers.
While bad news for makers of PDAs, the market shift could be the start of a long upswing that analysts have predicted mobile commerce will enjoy — eventually.
Though most predictions early in the Internet boom were that so-called m-commerce would become a market force sooner, analysts say the ingredients are clearly being put in place to make it happen going forward. Faster wireless networks are being built in 3G format, and device makers are striving to design smartphones that will make surfing the Web with small devices feasible.
Forrester Research analyst Bernt Ostergaard noted that in Japan, the combination of a highly saturated broadband user base and comfort with mobile technology has paved the way for some early mobile-commerce uptake.
For instance, the Bank of Tokyo has recently made a push to expand the mobile banking options it offers its customers. Such offerings are seen as key to proving the viability of m-commerce, satisfying skeptical users that it's secure, and proving its value from a revenue and profit perspective for companies that will offer the services.