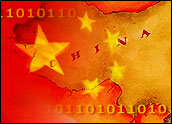 Leading mobile phone maker Nokia said it expects China to surpass the United States as the largest market for wireless phones and mobile subscriptions within three years, just the latest evidence that the rise of the Chinese economy is tilting the worldwide balance of power.
As it marked its 20th anniversary of first establishing a presence in China, Nokia said sales in China rose 44 percent in 2004 to US$3.6 billion, making it the company's second-largest market behind the U.S.
Nokia said worldwide mobile subscriptions will nearly double to 3 billion within the next five years, with a third of all new sign-ups coming in China.
Mixed Results
In a statement, the company's CEO said the Chinese market represents a "tremendous opportunity" for Nokia and said that "the expected roll-out of 3G networks and related services also represents an opportunity to improve our position in the Chinese market. During the next three years, I would not be surprised to see China become Nokia's largest market in net sales terms."
The rise of the Chinese economy has rapidly tilted the scales economically and clearly has had a ripple effect in other parts of the world. Chinese economic expansion has been blamed for high prices on commodities such as oil and steel, for instance.
However, the potential for market growth in the mobile sector might outstrip even those impacts, with some analysts even seeing the potential for the Chinese economy to become one of the most reliant on mobile communications. That, in turn, could expedite the development of mobile data services, streaming video and other mobile commerce services.
"Mobile has enormous potential to become the standard for all types of communication in emerging economies," Gartner analyst Ben Wood told the E-Commerce Times. "In some ways they could leapfrog more established economies."
That's because more developed countries have more choices, such as well-developed broadband networks and public and private WiFi networks.
Already, China's vast rural areas are being serviced with mobile telecommunications, in some cases with wireless phones arriving before reliable landline service.
Speeding Ahead
At the same time, companies eying the massive growth potential in China are willing and even eager to invest the millions and billions of dollars necessary to develop 3G networks and other cutting-edge technologies.
Scores of U.S. companies have already benefited from efforts to build out China's telecom infrastructure, and others have positioned themselves to benefit from the growth of Internet commerce, for instance.
However, China's habit of stubbornly adhering to its own set of technology standards, which already has caused hiccups for foreign companies vying to grab a share of the mobile market, could mute the overall impact that China has on advancing mobile technology.
For instance, Forrester Research analyst Brownlee Thomas noted that China's 3G network rollout is happening quickly and might pose compatibility problems in the future.