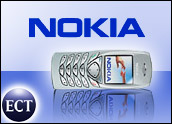 Nokia and RealNetworks have announced an expansion of their long-term relationship to enable Nokia to ship RealNetworks' media formats on a wide variety of its advanced phones.
"The new licensing and development model with Real fully supports Nokia's multi-format strategy and our commitment to respond to our customers' needs with best-in-breed solutions, such as RealAudio and RealVideo," Antti Vasara, vice president of Mobile Software Sales and Marketing for Nokia, said.
Vasara said the collaboration has resulted in more than 20 unique handset models based on Series 60 and Symbian operating system with RealPlayer capability.
IPod Competition?
But can a smart phone with audio capabilities really compete with an iPod? IDC mobile devices analyst David Linsalata told the E-Commerce Times that it isn't supposed to — at least not yet. Unlike MP3s, Linsalata said there aren't yet any huge mainstream mass market services from which to download songs to a mobile phone.
"It's hard to say that the Nokia phones will be direct competition for the iPod," Linsalata said. "Even when you combine the compressed audio functionality of a smart phone with the functionality of an MP3 player you are still talking about a solution that is not dedicated to playing music."
Linsalata said that dedication and its simplicity is one of the key drivers for iPod growth. Mobile phone manufacturers are starting to introduce converged devices that can now play a wider range of multi-media files, but they are not running head first into MP3 competition, he said.
Mobile Revolution Coming
Still, there is a market for the Nokia device, Linsalata asserted.
"Consumers might not be looking to purchase an MP3 player, but might actually enjoy having some of those songs with them just for that bus ride that's a little longer than expected," he said. "So it expands the options for Nokia and RealNetworks, but you are still at a point where some people are going to choose a dedicated MP3 player for the benefits it brings and other people are going to choose a converged device for the benefits it brings."
Linsalata said mobile audio is going to become increasingly important in the future as networks become faster. Future handsets, he said, will be more powerful with better speakers and more storage capabilities that will enable a better mobile music solution.
RealNetworks vice president of carrier and system software Aref Martin is looking forward to that day: "Working with Nokia, we will leverage more powerful and flexible technologies to deliver compelling mobile content experiences to an even broader range of Nokia devices, which will enable content owners, operators and consumers to reap the rewards of the promise of 3G."