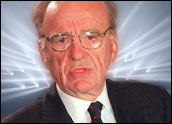 Two billionaires are burying the technology hatchet this holiday season. Rupert Murdoch and John Malone ended a two-year battle over Liberty Media's stake in News Corp. with a US$11 billion deal.
Specifically, Liberty Media has agreed to exchange its 16.3 percent stake in News Corp. for News Corp.'s 38.5 percent stake in DirecTV, as well as regional sports networks in Denver, Pittsburgh and Seattle, and $550 million in cash. The deal marks one of the largest stock buybacks in corporate history.
"We are extremely pleased with the successful, tax-efficient conversion of our News holding. Our investment in DirecTV will create financial, operating, and strategic flexibility," said Liberty Chairman John Malone. "Liberty's ownership of News has created tremendous value for our shareholders, and we are grateful to Rupert Murdoch and News management."
Free and Clear
The deal puts an end to a battle that began in 2004 when Malone set out to build Liberty's holdings in News Corp. Investment analysts are calling the deal attractive for Murdoch, who will now own 38 percent of News Corp., which is the third-largest U.S. media company, and the parent of Fox and MySpace.
Liberty seems content. It becomes the largest shareholder in the world's largest satellite television provider. DirecTV will put Liberty's QVC home shopping network, Encore channel and Starz Entertainment channel in front of 16 million more viewers.
The stakes in DirecTV and the regional sports networks represent a critical step in the company's efforts to transform itself into a well-positioned, focused operating company, Liberty Media execs claimed. It's still not clear which direction Malone will take with the asset.
"Malone has to decide how he is going to allocate his resources. Is he going to focus on developing a true broadband play? Is he instead going to focus on what traditionally satellite has done best, which is to offer tremendous access to good programming on great pricing? Is he going to continue to focus on HD as a driver, and if so is he going to be able to execute against the plan?" asked JupiterResearch Media Analyst Todd Chanko.
The Fate of DirecTV
There are many questions surrounding what will happen with DirecTV. It's history may give some indication of what's in store for the company.
Murdoch invested in DirecTV in December 2003. He hoped to build a global satellite TV business, but faced stiff opposition from U.S. cable television companies that started bundling programming with Internet telephony and other services with which DirecTV couldn't compete.
Meanwhile, DirecTV has experienced challenges on the order filling side, with tremendous backlogs on HD DVR orders. There are two ways to spin that story, Chanko offered. DirecTV could say it has been so successful drumming up consumer demand that it can't fill the orders fast enough — and there is some truth to that — or one might conclude that the company is all talk and no action.
"For a company of the size and scale of DirecTV, which counts roughly 16 million subscribers and tremendous free cash flow, you have to ask what is going on? Why are they not able to meet the supposed demand for these products?" Chanko noted. "We don't know how this deal is going to play out for the consumers because it's really a question of what strategy direction Malone intends to take."