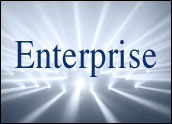 IBM and Yahoo on Wednesday introduced new, free enterprise search software with Web search services powered by Yahoo. The idea is to make it easier for corporate searchers to find and act on information stored on networks and across the Web.
Dubbed "IBM OmniFind Yahoo Edition," the software is an entry-level search product that Big Blue is using to introduce businesses to its pricey OmniFind solutions line. The free service competes with fee-based enterprise search solutions like Coveo and other no-cost solutions like Google Enterprise Search.
"Organizations of all sizes are faced with the problem of too much information residing in different locations and in different formats, making it nearly impossible to quickly extract meaning," said Ambuj Goyal, general manager, IBM Information Management, IBM Software Group.
On-Demand Information
For IBM, it's about information on-demand, one of its strategies for helping clients overcome the barriers to using information as a strategic asset. The joint solution offers a way for companies to analyze information to resolve customer issues, spot trends, recognize business opportunities and become more flexible, said Goyal.
IBM OmniFind Yahoo Edition supports up to 500,000 documents per server, more than 200 file types, and documents in more than 30 languages. It features a three-click installation process and takes customers only minutes to go from download to live search and information access, according to IBM. The software uses the open source Lucene indexing library to provide cross-platform full text indexing.
There are user-friendly features, such as automatic spell correction, support for synonyms and shortcuts, wild card support to substitute for unknown characters, query reporting and graphical user interface customization.
In addition, IBM OmniFind is fully integrated with Yahoo Search, providing one-click ability to send queries to Yahoo Web, image, video, audio, directory, local and news search services.
"One of the stumbling blocks for companies implementing corporate search technologies is that some of the solutions that are very feature-rich, like the IBM OmniFind. Yahoo puts a friendly face on a very complex back end," Charles King, principal analyst with Pund-IT, told the E-Commerce Times.
Upselling Opportunities
The new software complements IBM's existing OmniFind search and content discovery software. While it provides a no-cost entry point for clients who want to get started with basic search, Big Blue hopes those who take advantage of the free version might have future needs for advanced secure search.
IBM's fee-based OmniFind service offers capabilities beyond traditional search, such as business analytics, quality insight reporting, e-commerce and customer service self-help. The solution targets companies that want to leverage their unstructured information more broadly as a service throughout the enterprise.
"The free version doesn't qualify as being a loss leader since it's free, but it should over time create some opportunities for sales for IBM's more robust OmniFind solutions," King noted. "'Yahoo' is a name that people know and understand and trust. Creating something that has Yahoo's ease of use should do very well."