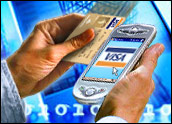 Visa and Nokia on Tuesday launched a mobile payment platform that aims to turn digital devices into digital wallets.
The system allows consumers to swipe a phone across a credit card scanner, which then reads the credit card information on a microchip that is embedded in the handset. Customers authorize the purchase by pushing a button on the handset.
Mobile payments are set to rise from a mere US$155 million in 2005 to a whopping $10 billion in total revenue by 2010, according to Juniper Research. Mobile payment for mobile content has already become a billion-euro industry in Europe, Forrester Research reports, as young consumers use SMS-based (short message service) mobile payments to purchase ring tones and other items.
Visa is not the only provider of the service. PayPal went live with a mobile payment in 2006 that offers "text to buy" capabilities. Click&Buy, IPIN and Simpay also offer solutions.
"Visa has long realized the importance of the mobile channel to the future of payments and as a medium to deliver consumer services," said Patrick Gauthier, senior vice president of innovation at Visa International. "The launch of the mobile platform is a significant industry milestone because it will enable innovative trials and go-to-market strategies for mobile payment services globally."
Partnering for Mobile Power
The initial version of Visa's platform launched on Tuesday. It offers solutions for "contactless" mobile payment, over-the-air (OTA) personalization, coupons and direct marketing. Subsequent versions of the platform will be released later this year and include solutions for remote payment and person-to-person payment, Visa said.
The platform is actually a suite of technology tools and applications, security standards, and business models designed to allow Visa issuers and mobile operators to engage in market trials to drive product development and commercialization of mobile payment services, the company said.
Visa did not developed the platform in a vacuum. The company relied on partnership with mobile technology companies, including handset manufacturers, chip suppliers, mobile applications developers, OTA service providers and mobile messaging providers, with the goal of easy integration with current wireless technologies and payment structures.
Predicting the Future
"In its current nascent stage, the mobile payment ecosystem is complex and presents a challenge for those considering entering this new space," said Mary Ann O'Loughlin, senior vice president, consumer practice, Ovum North America. "By developing the mobile platform and engaging key industry stakeholders, Visa is leading the charge to simplify and jump-start the development of innovative mobile payment services."
Gerry Purdy, chief mobile and wireless analyst for Frost & Sullivan, sees the Visa announcement as a positive demonstration of the ability to use a phone in a remote environment to process mobile payments, despite the lack of electrical connections.
Long-term, Purdy told the E-Commerce Times that a technology called "Near Field Communications" — a short-range wireless technology that enables touch-based interaction with electronic devices — will transform the mobile payment landscape.
"In the next decade you'll be using your phone to buy stuff wherever you go and think nothing about it," Purdy predicted. "It will be the standard way that credit cards will be accepted. Nokia and Visa have made it practical today."