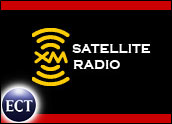 Looking to fend off competition from Internet-based entertainment providers and others, DirecTV and XM Satellite radio have signed a deal to offer subscribers of DirecTV access to streaming radio offerings of XM.
The two satellite-based companies said starting in mid-November DirecTV subscribers will be able to receive 72 of XM's channels as part of the basic subscription package, with a heavy emphasis on children's music and talk radio programming, including specialty channels. The lineup adds to the digital music offerings DirecTV already has in place.
Win-Win
The deal was widely hailed as a win for both parties. DirecTV gains another value-added service to fend off its own competitors — including cable providers and telecom players getting into the cable TV space — while XM gains huge exposure for its service. While XM has more than 5 million customers, DirecTV has more than 14 million subscribers, a huge audience that could become direct XM subscribers if they like what they hear over their DirecTV hookups.
DirecTV Vice President Dan Fawcett said the deal will help XM "deliver an unrivaled lineup of quality audio channels" and "continue to provide our customers with more entertainment choices, more value and the best service available."
That's important because every day, consumers have more choices in how to receive their entertainment. In fact, some analysts see the partnership as a long-term hedge against the rising threat of the Internet as an entertainment delivery channel. Already popular for streaming music, the Web is poised to become a hotbed for video-on-demand in coming years.
Natural Fit
XM Vice President Patricia Kesling said the two companies were formalizing a "natural partnership," since both deliver their content through satellite technology" and said that the in-home TV programming would become a powerful marketing platform.
"We know from experience that when people get to sample XM, they want to become XM subscribers," she added, citing the service's hand-picked music selection and the "creativity and freedom" of its edgy talk programming.
Analysts said the partnership was ideal for XM because it enabled more people to be exposed to the service without subscribing first. Such test-marketing is virtually impossible for XM and its key rival, Sirius, because the service can only be accessed with car-based or portable satellite receivers.
Sirius has a similar deal through which it provides music and other programming to Dish Network subscribers.
Getting Creative
The satellite providers face a rising threat in the growth of Web-based streaming media, said Inside Digital Media analyst Phil Leigh.
"There is considerable traction being gained in the streaming music market," he said. And unlike early attempts and streaming music online, providers are "discovering ways to monetize the services in a way that didn't happen before."
XM has tried to partner its way into the market, recently signing a deal with AOL to have that portal offer XM services as an alternative to Internet-based offerings from RealNetworks, Yahoo, Napster and others.
XM has also linked up with Napster in a deal that could enable users to hear a song on the radio service and mark it for purchase later through the download site.
Jupiter Research analyst David Card said the idea seemed to have potential. "Bookmarking a song you heard on the radio for later purchase is a great idea if it's implemented smoothly," he said. "Radio is still by far the number one music purchase influencer."