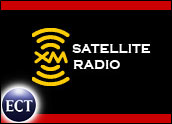 XM Satellite Radio today announced that next year it will offer programming that can play both satellite radio and digitally delivered spoken-word audio provided by Audible, a seller of downloadable audio versions of books, newspapers and other printed matter.
Terms of the agreement were not disclosed.
The content from Audible, the world's leading provider of digitally delivered spoken-word audio, will be available for download from the Internet into XM's handheld satellite radio devices' memory. This will allow XM subscribers to expand their listening choices to include audiobooks and other content available from Audible.
Heated Competition
XM and Sirius Satellite Radio, rivals in the emerging market for nationwide pay-radio services, have each hinted that they would eventually develop a satellite radio device that includes the ability to store downloaded songs, similar to MP3 players and iPods. Neither has set an exact date for such a device.
XM also announced that popular XM talk programs will be offered through the Audible Web site, beginning later this year with "The Bob Edwards Show" and "Opie and Anthony." The satellite radio programming will join the lineup of more than 45 regularly recurring audio subscriptions available for downloads to users of AudibleReady(R) digital audio devices at www.audible.com/subscriptions.
"From Billboard to SmartMoney magazine, XM is widely recognized for having the best content and the best technology in satellite radio," Hugh Panero, president and CEO of XM Satellite Radio said in a statement. "Audible and XM are the leaders in our respective businesses, so it's logical for us to work together on content distribution and technology."
Co-Branding Agreement
The two company's also said they will prominently co-market each other's products. Audible's premium spoken-word programming will be available at www.xmradio.com for download and transfer to AudibleReady(R) devices, while XM will feature Audible on the air, on its Web site and other channels.
In a press release, Donald Katz, Chairman and CEO of Audible, said, "This announcement brings together the best of XM Satellite Radio and the best of the Audible audio experience. Together, our respective technologies will enable the consumer to listen to the finest in radio programming and the best of personalized, spoken-word listening on their portable audio devices."
Shares of Audible (up US$2.21 to $18.54) jumped 12 percent in early trading. XM (up $0.34 to $33.82) shares climbed 1 percent.
---

Click here for expanded coverage on the XM Satellite deal …
---