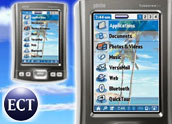 Once thought of as the next big thing in the technological evolutionary chain, hand-held devices are quickly being elbowed out of the market by smarter mobile phones that bear many of the same features.
A report from market research firm IDC said sales of hand-held devices have fallen for four straight quarters and dropped nearly 19 percent in the fourth quarter of 2004 compared to the year before. The decline might be accelerating, as sales plummeted 37 percent compared to the third quarter of 2004.
In fact, 2004 marked the first time in five years that worldwide shipments of hand-helds fell below the 10 million unit level. Sales dropped 13 percent in 2004 to 9.2 million, IDC said.
Converged Devices
The firm said global positioning system (GPS) has propped up sales somewhat as some vendors have blended GPS technology into hand-helds along with personal information management (PIM) tools with some success. However, at the same time, more onetime makers of the devices, including Sony and Toshiba, have said they would leave the space.
IDC mobile devices analyst David Linsalata said the decline is due in part to "increasingly saturated markets," but also from "stiff competition from converged mobile devices."
Vendors have to "evolve their devices beyond personal information management" in order to jumpstart the industry again, Linsalata said.
The devices have "lost much of their distinction and attraction" over mobile phones, he added. "The lines have blurred."
IDC's definition of hand-held devices include those that can be syncronized with PCs and can be used to wirelessly send text messages, but are not equipped with telephony.
Hanging On
In fact, many mobile carriers now offer phones with virtually all of the basic functionality that once drove consumers and business users to personal digital assistants (PDAs) from the likes of palmOne, Hewlett-Packard and Dell. Some consumers have even taken to using iPods and other digital music players as personal assistants, using the basic calendar functions most come equipped with.
Also, Linsalata noted, smart phone makers have done a better job of rolling out devices with features that motivate consumers to buy.
For instance, Nokia recently released a smart phone that can stream and record video as well as play music and display photographs, along with a host of productivity functions.
Underscoring the shift is a decision this week by Hewlett-Packard to begin an aggressive marketing push behind smart phones, which analysts said is a recognition that the market for PDAs has likely peaked. HP has yet to say who its partner would be, though speculation is that it might work with Nokia.
Among hand-held makers, palmOne devices remain in the top spot, though the company did see an 11 percent drop in shipments in 2004. HP held second place, but lost more than 2 points of market share to palmOne and also saw a steep drop in year-over-year sales, losing nearly 11 percent.
Third-place Dell was an exception, seeing shipments grow 22 percent on the strength of new models released targeting the business user.
New Era
"The era of the smartphone is upon us," Gartner research Vice President Ken Dulaney told the E-Commerce Times. "The pace of change is only going to quicken in 2005."
Driving the shift is an increasing comfort level among enterprises with using cellular technology to keep workers connected and a desire by mobile technology users to streamline.
Combining PDAs, mobile phones and even MP3 players and gaming devices into a single device is a winning market strategy, especially when such gadgets can be sold for prices that are competitive with high-end standalone PDAs.
"If a single device can do effectively what two or three used to do, users are going to choose to simplify," Dulaney said.