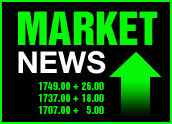 Data showing a strong pulse for the economy and falling oil prices helped stir up a serious rally on Wall Street today, with stocks posting their best day of 2005 in terms of percentage gains.
All of the major stock averages saw gains of at least a full percentage point as stocks rallied early in the session and held gains through the closing bell.
GDP Growth
The Dow rose 135.23, or 1.3 percent, to 10,540.93. The Nasdaq got a healthy bounce off the five-month low it hit yesterday, gaining 31.79 points, or 1.61 percent, to claw back above the 2,000 level, to 2,005.67. The S&P 500 index was up 16.05, or 1.38 percent, closing the session at 1,181.41.
The rally was kicked off by the Commerce Department report showing that gross domestic product grew at an annual rate of 3.8 percent during the fourth quarter of 2004. That matched an estimate issued last month and was just slightly below the 4 percent growth rate clocked in the third quarter. The GDP numbers might also have sparked optimism about Friday's March jobs report.
Meanwhile, a report from the Department Energy showing that oil stockpiles in the U.S. had grown more than expected for the second straight week sent oil prices sharply lower. Crude futures recovered somewhat by the close, but were still down 24 cents on the day to US$53.99.
The report did show a sharp drop in gasoline supplies, which could lead to further hikes in that commodity. Pump prices are already an average of 40 cents per gallon higher than a year ago.
Individual Stocks
The impact of oil and gasoline price jumps was a major concern for investors in recent weeks, with widespread worries that inflation would lead to higher interest rates and reduced corporate earnings.
Among individual stocks, Hewlett-Packard posted a second straight day of gains after announcing Mark Hurd as its new CEO. HP said the board of directors would look to Hurd to recommend sweeping changes to help the technology company become more streamlined and efficient.
Shares of MCI also were higher after reports circulated that Qwest was not going to give up its bid to outfox rival Verizon to take over the long-distance company and had hired a proxy company, possibly to advise it on how to take its case for having Qwest's offer chosen directly by MCI shareholders.