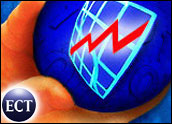 Database sales posted strong gains in 2003, with IBM and Microsoft winning market share but Oracle benefiting the most from the rise of Linux, according to a new report from Gartner Dataquest.
Gartner said the worldwide market for relational database management systems grew 5.1 percent last year to nearly US$7.1 billion, a dramatic improvement over 2002, when sales fell nearly 6 percent.
Although much of the gains were attributed to changes in the relative value of currencies around the world, Gartner said the numbers show the market stabilizing, with enterprises again investing in systems that are often the foundations for entire enterprise computing networks.
"Enterprises … are looking to the future," said Colleen Graham, the Gartner analyst who authored the report. "Many companies are examining ways to augment and improve reporting and data management capabilities to meet increasing regulatory compliance requirements. The increasing strategic importance of data warehouse and strategic business intelligence initiatives has provided some of the growth."
Shifting Sands
Gartner's numbers show that all of the top database vendors saw improvements in sales, with some shifts in market share taking place.
IBM maintained its overall lead with 35.7 percent of new license revenue and posted 5 percent sales growth, largely on the strength of its DB2 offering on the iSeries and zSeries platforms and third-party software sales, which have helped IBM reach more small businesses. IBM's market share, which included sales from the Informix line of products, did not change from the previous year, Gartner said.
Oracle held onto second place with 32.6 percent of the overall market, down from 33.4 percent the year before. The company posted about a 2 percent sales gain but lost market share for the third year in a row, according to Gartner.
Quick Spin
Oracle was quick to put its own spin on the data, noting that while it provided audited sales figures to Gartner and other research firms, other companies do not necessarily provide data that has undergone similar reviews. The company also said it remains the leader for "modern" databases, such as Unix, Linux and Windows.
"Particularly in the new, rapidly expanding Linux market, Oracle is solidifying its position, with the highest growth and largest market share of any vendor," Oracle vice president Robert Shimp said in a statement. "Oracle continues to extend its position as the world's most popular brand in the modern relational database market."
Also making gains was Microsoft, which expanded its share of the market from 17.7 to 18.7 percent as sales grew 11 percent, the strongest increase among all vendors.
New Platform in Town
By far the fastest-growing platform for database sales was Linux, which grew 158 percent from 2002 levels. Oracle saw powerful growth in the Linux sphere, with sales up an astronomical 360 percent over 2002.
Yankee Group analyst Laura DiDio told the E-Commerce Times that Oracle has benefited from having a clear strategy for integrating Linux into its offerings.
"They have recognized the strategic importance of positioning themselves in the Linux marketplace," DiDio said. Oracle has invested in third-party application development to make its products work with Linux, she noted.
The Gartner data show Oracle with a strong early grip on the Linux database market. The company has nearly 70 percent market share in the space, compared with 28.5 percent in 2003.
Performing well in the Linux niche is especially important, she added, because of Oracle's strong position in the Unix market, which Gartner said shrunk nearly 6 percent in 2003. Oracle controls 57 percent of the Unix database market.
Rosy Forecast
In an interview with the E-Commerce Times, report author Graham said Gartner expects the Linux database market to post another strong year of growth in 2004, with expansion rates as high as 80 to 100 percent.
"While we expect Oracle to continue to make a strong showing, we also expect IBM to see an improvement due to increased focus on this platform," she said.
Graham said there appears to be an "increased intent to buy" as well as stronger sales, though enterprises are not rushing ahead with database purchases.
"We are still hearing cautiousness from enterprises, so a significant portion of purchases are likely to be held off until closer to the end of the year, when companies are sure those budgets aren't going to get cut as in the past," she added.