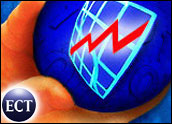 Oracle has reported third-quarter sales rose 9 percent year over year to US$2.5 billion while profits climbed 11 percent to $635 million. Both numbers were in line with analysts' estimates. The company also issued a positive outlook for the rest of 2004, a prediction that could help the stock market end a week-long slide.
Oracle said new software licenses and license renewals both were strong in the quarter that ended in February and added that its sales indicate enterprises are preparing some major new database deployments.
"There should be stronger tech spending in 2004," Oracle CFO Jeff Henley said in a conference call. "Business sentiment seems to be getting more confident."
The Big Number
CEO Larry Ellison said sales of Oracle's Real Application Cluster (RAC) products, which rose 86 percent, fed the company's belief that enterprises are feeling confident about business prospects and are preparing to invest again in information technology.
RAC enables centralized database management across server clusters, and its adoption shows more interest in large-scale database grids.
The company's application business remained tepid, however, with sales in that category falling 5 percent — a fact that may help further fuel Oracle's pursuit of PeopleSoft.
Forrester Research analyst Byron Miller told the E-Commerce Times that Oracle's results might reassure investors who were beginning to have concerns about the durability of the recovery, especially in the tech sector. The Nasdaq has seen a sharp selloff in recent weeks, dropping below the 2000 threshold just as it passed the four-year anniversary of its high point above the 5000 level.
"Oracle might help calm some nerves by saying that things look good," Miller said.
June Swoon?
Oracle deflected most questions about its looming courtroom battle with the U.S. Department of Justice over its attempt to buy PeopleSoft, with Ellison saying only that Oracle is "looking forward to hearing from the court." The lawsuit filed by the DOJ and several state attorneys general is slated for trial starting June 7th.
Oracle did reveal in its filings with the U.S. Securities and Exchange Commission that it spent some $58 million in the third quarter to pursue the takeover attempt, with legal costs making up much of that outlay.
Although the company has been adamant that it will not give up the PeopleSoft fight and says it remains confident that it can convince a court that the merger will not be anticompetitive, it noted that it is open to other acquisitions that would strengthen its business over the long term.
"There's a number of other acquisitions we're looking at," Ellison said. "We think we'll have plenty of use for our cash."
The Distraction Factor
Oracle's hint that it is interested in other takeover targets may be aimed at mollifying those who feel the PeopleSoft deal is not worth the effort being pumped into it. Others have begun to suggest Oracle should consider using its ample cash reserves and the power of its stock value to purchase another large firm, such as BEA, or to concentrate on acquiring smaller software firms with technology that can be added to Oracle's lineup.
"Even people who were on board up-front with the PeopleSoft purchase are starting to worry about the long-term impacts this thing can have, especially if they don't succeed in the end," Gartner analyst Besty Burton told the E-Commerce Times.
Strong quarterly earnings reports will help assuage those fears as well, she added. "They can point to their results and say there is no distraction factor."