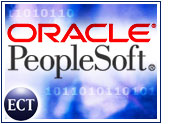 The U.S. Department of Justice (DOJ) has delivered a body blow to Oracle's languishing hostile takeover bid for PeopleSoft, suing to block the US$9.4 billion takeover because it reportedly would result in higher prices, less innovation and fewer choices.
"We believe this transaction is anticompetitive — pure and simple," Assistant Attorney General R. Hewitt Pate said. The decision was made public just after U.S. stock markets closed Thursday. "Blocking this deal protects competition."
Three's Company
In its announcement, the DOJ noted that PeopleSoft, Oracle and SAP are the only three major worldwide competitors in the market for enterprise-level human resources and financial management software.
"Oracle and PeopleSoft frequently engage in head-to-head competition during the complicated and lengthy bidding process through which these software solutions are purchased, with customers benefiting from aggressive price discounts and more innovative software as a result," the DOJ said.
Seven state attorneys general have agreed to back the DOJ suit against the takeover.
Final Chapter?
PeopleSoft CEO Craig Conway described the announcement as a "day of reckoning" and called on Oracle to walk away from its hostile takeover attempt.
"Both companies should now devote all of their energy to competing in the marketplace to provide better products and services for customers," Conway said in a statement.
Oracle sounded a defiant tone in its own response to the ruling but did not say whether it will challenge the DOJ — a step that could lead to another year or more of legal maneuvering.
"We believe [the lawsuit] is without basis in fact or in law," Oracle spokesperson Jim Finn said, repeating an Oracle claim that PeopleSoft lobbied heavily for the DOJ to step into the fray. "A combined Oracle/PeopleSoft will significantly benefit all customers and shareholders involved."
PeopleSoft has consistently rebuffed Oracle's takeover offers since the first one surfaced last June. Many observers saw Oracle's move last month to significantly increase its per-share offer price to $26 as a last-ditch effort to win over PeopleSoft shareholders before the antitrust ruling came down.
That offer came at about the same time that Oracle nominated a slate of officers for election to PeopleSoft's board, an effort to break down resistance by that body to the deal.
Last Call?
Analysts said Oracle might have been hoping the DOJ would express concern about specific aspects of the takeover rather than the entire deal. Such a result could have left room for negotiation with antitrust regulators. In that situation, remedies such as the spinoff and sale of some geographic business units or specific product lines might have helped clear the way for the deal.
Gartner analyst Betsy Burton said Oracle likely is not surprised by the ruling, which DOJ staff recommended earlier this month, and probably has set a strategy for moving forward.
"Oracle has to make a decision now whether to publicly retreat, which is not going to be easy, or keep moving forward facing a very steep battle," Burton told the E-Commerce Times.
If Oracle does go forward with the takeover attempt, she said, it may try to overcome the DOJ's objections through negotiation or through an outright battle in court. The company has said repeatedly that it remains committed to closing the deal, but it may use the suit as a rationale to begin backing down over time.
Waiting in the wings are European regulators, who also have signaled their concerns about the deal and could make Oracle's road even rougher if it chooses to move ahead with the takeover.