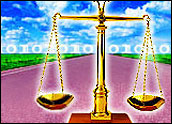 Oracle Corp. has asked a court to toss out PeopleSoft's customer assurance program, saying the company's cash guarantees amount to an attempt to block Oracle's hostile takeover bid and lock in pay packages for PeopleSoft executives.
In a motion filed with the Delaware court that is handling other aspects of the takeover bid, Oracle said PeopleSoft's newly revised assurance plan — which promises customers cash refunds for their software purchases if the company is bought and the purchaser phases out support — may make its longstanding US$7.3 billion bid unfeasible.
In some cases, customers can qualify for cash rebates of up to five times what they paid for their software licenses. Some estimates have put the value of the rebate assurances at more than $700 million.
"Oracle may be forced to abandon its bid, as it will no longer be economically reasonable," the company said in its filing. Oracle went on to call the expanded rebate plan, which extends the assurance and rebate program from one year to two, "self-serving" and "entrenchment-motivated."
Oracle, whose bid now stands at $19.50 in cash per PeopleSoft share, asked the court to move quickly to approve an injunction preventing PeopleSoft from offering the program to more customers.
The Other Shoe
At least publicly, Oracle has been steadfast in its pursuit of PeopleSoft, despite what has proven to be a lengthy review of the deal's implications by the U.S. Department of Justice's antitrust division. That review has included interviewing customers and other technology firms to judge the impact of the merger. The DoJ is expected to issue a ruling by the beginning of December.
Oracle spokesperson Jim Finn said the latest changes to the PeopleSoft rebate program are more about PeopleSoft's executives attempting to protect their own pay packages than about protecting shareholder value.
"They're showing no regard for shareholder value or choice," Finn said in a statement. He pointed to earlier challenges to the rebate program filed by major PeopleSoft shareholders. "They're reducing the amount of choice their shareholders have in front of them."
Most observers believe the DoJ will express at least some serious concerns about the takeover, particularly since PeopleSoft has closed its own buyout of J.D. Edwards since Oracle launched its hostile bid.
In Limbo
Gartner analyst Betsy Burton told the E-Commerce Times that the review already has stretched for longer than most observers had anticipated, pushing back the timeline for resolving the matter and a tangle of additional legal issues, such as the rebate program.
"PeopleSoft put up good numbers in the third quarter, which shows they're able to focus on execution of their business plan, but that probably doesn't have much impact on Oracle's bid," Burton said. Oracle managed to hit its own financial targets, but sales were off pace.
"The more extended the period of uncertainty, the less likely the deal comes off smoothly and without disruption," Burton said.
In fact, while they maintain they still want to close the deal, Oracle executives recently indicated the company will search for other acquisition targets if it cannot close the PeopleSoft deal.