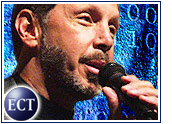 Saying his company's hostile bid to acquire PeopleSoft is anything but dead, Oracle CEO Larry Ellison has stated he remains committed to seeing the deal through to the end.
"We're very determined to complete this acquisition, and we're very patient," Ellison said, indicating the drama could drag on for several more months. He also suggested Oracle will carefully weigh the benefits of raising its offer price again. The value of the deal now stands at nearly US$7.3 billion.
"We like to buy on sale," Ellison said after his address at the OracleWorld conference in San Francisco. "I tend to be optimistic. We have our fingers crossed and believe we'll get the OK from the government to go ahead and complete our acquisition of PeopleSoft."
Big Blue Weighs In
Meanwhile, one of Oracle's main rivals in the technology world reportedly has told the U.S. Department of Justice's (DOJ) antitrust division, which is weighing whether or not to let Oracle buy PeopleSoft, that competition would be harmed by the coupling of the two companies.
IBM's concerns are that with Oracle and PeopleSoft combined, three companies — Oracle, SAP and Microsoft — would control enough of the enterprise software market to make additional competition all but impossible.
It is not clear how much weight the DOJ will give to IBM's concerns, given Big Blue's status as a toe-to-toe competitor with Oracle on many fronts. However, some Oracle analysts say the length of time regulators are taking to scrutinize the deal is itself a red flag.
Over or Not?
Ellison's comments came just a week after PeopleSoft CEO Craig Conway described the Oracle takeover as "dead," citing remaining regulatory hurdles and PeopleSoft's own success in closing its purchase of J.D. Edwards, and reassuring customers that PeopleSoft will remain independent. Conway's comments were the only ones made about Oracle during PeopleSoft's day-long meeting with analysts and investors.
Oracle spokesperson Jim Finn told the E-Commerce Times that Oracle will not shy away from discussing the PeopleSoft acquisition at its weeklong OracleWorld gathering, but that the main focus is on Oracle's overall vision of the next generation of database and computing power.
"Other executives will have more to say on it over the next couple of days," Finn added. "It's part of our future strategy, but not the entire strategy."
In fact, Ellison used the bulk of his time in the spotlight to chat up Oracle's grid computing initiative, which includes several new database products designed to make it easier to shift IT operations among an array of servers.
"After 40 years, now there's an alternative to the one big server approach," Ellison said. "It's enterprise grid computing. Our software creates the illusion of one big, super-powerful computer."