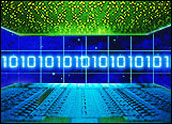 With the high-tech spotlight focused squarely on it as the annual OracleWorld expo kicks off, database giant Oracle is unleashing products aimed at making it easier for customers, particularly small and mid-size businesses, to take advantage of grid computing.
The company, which hosts its annual OracleWorld expo starting today and which will release highly anticipated first-quarter results Friday, joins IBM, Microsoft and others in touting grid computing as a major technology leap that could help companies reduce IT costs and increase network efficiency.
Oracle vice president Charles Rozwat said grid computing has potential to "dramatically reduce the time, labor and cost of IT management" by pooling industry-standard hardware and software and by using the same pool of resources to work on multiple projects, rather than requiring IT managers to purchase additional computing power for each new project.
While he acknowledged that effectively using distributed grid computing power poses a system-architecture challenge, Rozwat said it also involves "people, processes and best practices." He noted that Oracle is seeking to deliver "new levels of automation and intelligence" to help companies reduce their reliance on IT administrators to run grids.
Join the Club
Oracle's grid-computing push comes about a year after IBM made this technology the focus of a US$10 billion commitment to spread the word about e-business on demand. Big Blue also highlighted grid-computing features in its most recent Websphere software release.
The technology has been appealing to enterprises that are eager to get as much use as possible out of technology they already have bought, IDC analyst Carl Olofson told the E-Commerce Times.
"The problem with the notion of tying grids together into a cohesive unit has always been that it takes an enormous commitment of time and labor to make it work," Olofson said. "Any movement to reducing that cost is going to help advance the effort."
Many Parts, One Mission
Oracle unveiled several products, all slated to be available to customers by the end of this year, as part of its grid initiative. For example, the company is pitching software called Database 10g at larger enterprises, saying it can reduce the number of administrators needed to keep networks running smoothly by automating such features as data collection and resource allocation.
Another program, Oracle's Application Server 10g, is designed to tie together various system components, enabling enterprises to run existing applications and Web sites on grids without modifying them in any way. The server software will feature workload management options that let administrators more easily shift resources as needed, using policy guidelines to direct computing power where it is most urgently required.
Rozwat said the 10g server software "takes middleware to the next level."
People Who?
While Oracle has made it clear that grid computing and next-generation database technology will be the stars of its upcoming expo, analysts, customers and investors also will be watching Oracle World closely to determine how the company will handle the lingering PeopleSoft issue. At a one-day analyst confab last week, PeopleSoft executives managed to go nearly the whole day without referring to Oracle's hostile takeover bid.
The topic arose only during a question-and-answer session — and even then, PeopleSoft CEO Craig Conway dismissed it, saying it was no longer considered a "current issue" by his company.