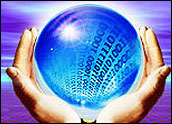 Server technology improvements are poised to turbocharge the way companies run their e-commerce operations, ranging from the way they process transactions to the methods they use to snag new sales. In the not-so-distant future — perhaps even next year — consumers could begin to see results of this transformation as hardware processing power increases and more companies incorporate broadband capabilities into their servers.
At IBM (NYSE: IBM), for example, an initiative dubbed Project eLiza aims to transform the way servers interact with one another via software that makes them self-managing. According to IBM technology strategist Joe Winkelbauer, a single transaction on a Web site can involve as many as 20 different servers; therefore, servers must be enabled to communicate better.
Self-Managing Software
IBM's response has been to develop autonomic, or self-learning, software that not only ties servers together, but also continuously monitors them to determine which ones are busy and which ones can handle additional work during peak business hours.
Such software eventually should result in faster e-commerce transactions and could greatly benefit companies' overall e-business processes. In business-to-business situations, for instance, a manufacturing company could program servers to automatically place bids and purchase parts from other firms' Web sites.
"As we go forward in time, you're going to be seeing all kinds of transactions being done on a regular basis without a human being getting involved," Winkelbauer told the E-Commerce Times.
He emphasized that IBM's new technology — which is incorporated in servers slated to be shipped before year-end — is aimed not at putting people out of work, but at helping companies make better use of existing personnel and resources. By automating server processes, he said, companies can devote resources to handling additional business and seeking new markets.
Remote-Control Access
The technology is not only time-saving, but also self-healing. For example, Winkelbauer said, autonomous server technology will help e-businesses recover more quickly after service outages and improve their defenses against hack attacks. Smarter automation also will make it possible to keep server systems running at all times via remote control — or even via mobile devices as wireless technology advances.
"If you're a major company, you should be able to control every server you have in the world from one location," Winkelbauer said.
Although the slumping economy may be slowing progress toward this and other goals, the economy eventually will turn around. When that happens, the combination of improved software, greater processing power and increased broadband use is likely to help companies pioneer cost-effective new ways to reach potential buyers, according to Gartner research director Whit Andrews.
Compelling Media
For instance, companies could include video presentations on their Web sites that show products in action, such as a demo of how to carry a certain piece of luggage. Likewise, manufacturers could present more unified sales campaigns and demos across various online and offline channels.
"You could hypothetically go to the Maytag Web site to see a video on how a certain washer works, and that same video would be available on the Sears retail site," Andrews told the E-Commerce Times.
In another example, a site like Amazon could offer virtual, media-rich samples of children's books, allowing young readers to browse them before their parents decide to make a purchase. Cruise lines could provide users with fully interactive, 360-degree views of their cabins to help them decide whether to book a trip.
"We're reaching the point where the presentation of a product online does not have to be limited to a still image," Andrews said.
Smarter and Smaller
Better technology also will lead to more cost-effective customer service. Andrews said that companies not only will be able to handle transactions faster, but also could save significant dollars by avoiding merchandise returns that might have resulted from incorrect assembly or use of products.
Aberdeen Group chief research officer Peter Kastner noted that other improvements, which are likely to play out for the rest of the decade, will transform e-commerce in even more ways. As wireless devices become more Web-compatible, and as server size continues to shrink, e-businesses will be able to provide more features and functions without devoting huge amounts of space to new equipment.
Server and software enhancements will also make certain e-marketing functions smarter — for example, they could allow specific, targeted product recommendations that are not viewed as generalized, annoying spam. "If you visit a site and only buy turtleneck sweaters in a specific style, the site will know to only send you e-mails about those turtlenecks, not blue jeans," Kastner told the E-Commerce Times.
Boosting Grid Profile
Combined with ongoing developments in Web services technology — which will allow systems operated by various companies to interact seamlessly through common language interfaces — IBM's Winkelbauer said self-managing servers also could accelerate the commercialization of grid computing networks.
Such networks could help companies extend their reach even further by presenting opportunities to gain new business.
"The technology is definitely getting smarter," Winkelbauer said. "It's not going to be like HAL in 2001: A Space Odyssey, but it's time that these systems start doing more for us."