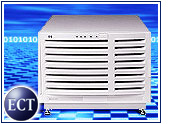 As e-commerce server providers go head-to-head, touting their wares as the latest and greatest, meaningful hardware comparisons sometimes get lost in the shuffle.
But what makes the ultimate e-commerce server? The answer to that question must be based on the particular e-commerce venture and its online strategy. At the low end, single-processor systems and basic storefront software start at about US$16,000.
The high end requires multiple CPUs and can be much more expensive, Andrew Bartels, an analyst with Giga Information Group, told the E-Commerce Times.
Prime Example
Oracle, for example, has made an aggressive push with its 11i E-Business Suite toward centralizing commerce initiatives while using as few servers as possible. Other companies, such as Microsoft, favor a distributed approach. "Microsoft requires more servers," Bartels noted, adding that a Unix implementation would require fewer servers while providing more processing power.
When it comes to the ultimate server, though, AMR Research analyst Louis Columbus told the E-Commerce Times that "Hewlett-Packard's rx5670 is a prime example."
Brian Cox, product line manager of business critical systems at Hewlett-Packard, told the E-Commerce Times that until recently most servers produced by such vendors as HP, Sun and IBM "were designed before the Internet became commercially available, [and] were not designed to handle e-commerce."
Now, however, Intel has designed a new family of microprocessors, including the Itanium 2, that Cox said are designed to handle the computational demands, transaction volumes and security requirements of e-commerce.
HP has chosen to cast its lot with Itanium 2, building its family of servers around that microprocessor family and using them to power HP.com, its own e-commerce venture.
By the Numbers
Columbus said the ultimate e-commerce machine would offer performance, scalability and flexibility, with one to four Intel Itanium 2 processors that each clock at least 1.0 GHz, with a bus bandwidth of 6.4 GB per second.
He recommended 32 KB of on-chip level 1 cache, 256 KB of level 2 cache and 3 MB of level 3 cache. Ideally, main memory bus bandwidth should be 12.8 GB per second. And he suggested a capacity of at least 48 GB of fast RAM per server, with additional RAM available to be added as loads increase.
On the other hand, Cox recommended 1 to 2 GB of memory for each processor, and noted that high-bandwidth throughput is essential.
Key Elements
Of course, choosing the right operating system is also key to building a great e-commerce server. Columbus recommended the HP-UX 11i Unix-based OS, and suggested that a server should have at least four internal drive bays, each with Ultra SCSI drives.
Hypothetically, hard disk space could be 292 GB with four 73 GB drives, according to Columbus, and a server should have nine available PCI expansion slots — three at 133 MHz and six at 66 MHz. He also pointed out that a single 33 MHz PCI slot would suffice initially, and that bandwidth should be at least 4 GB per second.
Bartels said a worthy server should support all e-commerce features, including a storefront, shopping cart and catalog management, in addition to a contact center, shipping calculator and fulfillment system.
Future Growth
As companies bring their server strategies online, the overall server market will probably get a boost. In general, the global server market has suffered along with the economy.
However, IDC expects that the market will pick up later this year and will experience respectable growth over the next few years.
"After almost two years of tough economic conditions and capital spending freezes, the server market is well positioned to regain momentum," said Vernon Turner, group vice president of global enterprise server solutions at the research firm.