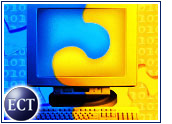 With the merger of Hewlett-Packard and Compaq a done deal and its strong reputation intact, the new HP seems well positioned to remain a leading force in the global IT arena.
In the last few months, the company has shrugged off criticism of the much-talked-about marriage. HP CEO Carly Fiorina recently told industry analysts that the company has met the commitments it made in September 2001 to present a unified face to customers, consolidate and rationalize product lines, and reduce costs.
In the same vein, HP spokesperson Rebeca Robboy told the E-Commerce Times that the merger has enabled the company to "deliver more for less," improve its competitiveness and ensure growth over the long term.
Go Directly to Future?
HP has strived to develop product road maps that draw on the strengths of the combined companies, Robboy said. The company claims that as a result of the merger, it has attained a leadership position in a laundry list of areas, including storage, Windows-based servers, Unix and Linux servers, management software, PCs, fault-tolerant systems, IT services, imaging and printing, and Pocket PCs.
As part of its new focus, HP has charted a course to re-emphasize its commitment to direct PC sales and to move away from software and toward hardware.
Toward that goal, the company last month launched a revamped Web site to sell PCs directly to small businesses. This marked the first public move in the computer maker's attempt to catch up to Dell, the leader in direct PC sales. But the strategy has drawn fire from analysts. "For HP, the more they go direct, the more they alienate their retail partners and corporate resellers," Ashok Kumar, a senior analyst at US Bancorp Piper Jaffray, told the E-Commerce Times.
HP spent tens of millions of dollars on the site and plans to overhaul its consumer Web site in November 2002, according to Michael Winkler, executive vice president of the company's global business units.
Double Vision
The company also remains focused on providing highly scalable and secure servers and storage in the data center, as well as standards-based systems that can be rapidly deployed for the Web. In addition, it has put an emphasis on services, rich multimedia, distributed applications, digital imaging and printing products.
Currently, HP reaps US$20 billion in revenue from its enterprise systems group, which includes servers and storage. Its imaging and printing group draws in another $20 billion.
But the company is not focused only on profit. Robboy said HP's investments in R&D serve as evidence that the company remains committed to innovation "in terms of both technology and [the] business model."
New Universe
Partnerships also play a vital role in the new HP's universe. "You see that … playing out in our platform strategy with Itanium and in our software strategy, with BEA J2EE and Microsoft and .NET," Robboy noted.
More specifically, HP recently inked a deal with BEA Systems to bundle BEA's flagship software product, WebLogic. The company also expanded its relationship with Microsoft beyond to promote the software giant's .NET Web services initiative.
HP's course from this point forward is anything but certain. Naysayers predicted the merger would bog down the company in integration woes and corporate culture clashes. In truth, however, HP seems to be making steady progress toward the future — whatever it holds.