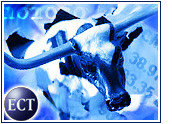 With the stock market wobbling unsteadily toward the 2002 finish line, producing gains that are modest at best and nonexistent at worst, good investments are few and far between. Even so, a few savvy investors have found some high performers amid the carnage.
For example, those who invested in Amazon.com at the beginning of 2002 have watched the company's stock skyrocket 124 percent because Amazon's business is thriving. Efforts to attract buyers and reduce costs have paid off. "Most people now seem to agree that Amazon will be a survivor and not go bankrupt," Morningstar.com analyst David Kathman told the E-Commerce Times. "And it's done a good job of reviving its growth, which was a major issue last year."
Expedia stock also turned in a stellar performance this year, increasing 90 percent, according to Kathman. And Hotels.com saw its stock rise 56 percent during the same time period.
Travel Plans
In fact, the travel sector as a whole has impressed industry observers with its resilience, and Giga Information Group analyst Andrew Bartels told the E-Commerce Times that travel likely will continue to shine.
However, Kathman noted that although online travel may be outperforming the broader market, "not everybody is doing as well as Expedia and Hotels.com. Travelocity has really fallen hard, though it's no longer traded independently since Sabre bought it out in February."
He said he expects Expedia in particular to keep performing well. "It has just continued to dominate the online travel field and has continued to post eye-popping numbers. Its revenues are still growing at close to triple-digit rates, and it's solidly profitable."
However, Kathman explained, year-to-date returns for Hotels.com and Expedia stock may not indicate future prospects. Because travel stocks were battered last year in the aftermath of September 11th, growth figures may appear more positive than they actually are.
Well-Adjusted
But Amazon, Expedia and Hotels.com are not the only gems amid the tech-sector wreckage. Investors who cast their lot with the likes of security company Symantec and online auction giant eBay, particularly if the latter was purchased in late January or early February 2002, also saw their picks pay off. For example, Symantec, unlike some of its security colleagues, showed modest but promising gains this year.
For its part, eBay has been expanding its reach while simultaneously sharpeningits focus on sectors that perform well — and the company's efforts have paid off in rising stock prices.
Despite some of the stock success stories of 2002 — and some stomach-churning plunges — the economy generally has been stagnant.
Fundamentals Still Vital
Kathman warned that investors should not get too comfortable with the idea of buying this year's high-performing stocks because the market is still not stable. "[Expedia and Hotels.com] have had a lot of dramatic ups and downs during the year, and I wouldn't be surprised if they had more swings before December 31st," he said.
Likewise, Kathman's colleague Fritz Kaegi told the E-Commerce Times that investors should not be too quick to write off companies that have suffered stock woes in the past. They may redeem themselves.
So, how can investors determine which stocks to buy? Kaegi noted that product mix, capital structure, financing of growth, management, service and a company's economics are all good predictors of the future. He pointed to Cisco as proof.
"When you look at Cisco this way, the company does sparkle," he said. "It may never again be the most valuable company in America, but there's little doubt its fundamentals are among the best in the equipment industry. "