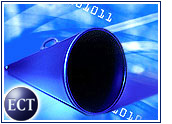 It may be an overused phrase, but it is still a fact that the squeaky wheel gets the grease, and this rule certainly has held true in e-commerce. Large companies like Amazon and Dell have been vocal in announcing their online presence and have built loyal customer bases as a result. But there is still abundant opportunity for less-established e-commerce sites to trumpet their existence to the world — or at least the part of the world they are targeting — without spending millions of dollars on large-scale ad campaigns.
Companies that already have established a brand, of course, are better positioned than newcomers in today's forbidding market and economy. "There are not a lot of companies doing Internet-only; it is much more difficult," Giga Information Group analyst Andrew Bartels told the E-Commerce Times.
Put It in Writing
Companies that already have brands can, for instance, include their URLs on shopping bags, business cards, coupons and existing advertisements in print and on radio and television.
As a prime example of this tactic, Yankee Group analyst Sheryl Kingstone pointed to Lands' End's aggressive promotion of its online "build to order" clothing feature in its August 2002 print catalog.
And Dan Hess, a vice president at comScore Networks, which owns Web traffic tracker Media Metrix, told the E-Commerce Times that fast food chain Chik Fil A has successfully used creative billboard ads to lure Web surfers to its site.
But some companies have resisted such tactics, in part because expanding their reach might "subject them to sales tax" in additional locations, said Bartels. But he believes potential tax liabilities would be offset by the ability to reach customers more cost-effectively over the Internet.
What Buyers Want
Whether or not a company is already established offline, it helps to have a product or service that buyers want, so they will seek out the site on their own. One good example of such a service is financial information. Spurred by economic unrest and low investor confidence, traffic to financial Web sites grew 19 percent to 23.2 million unique visitors in July, according to comScore.
Because mortgage rates have dropped so much, comScore noted, there also was significantly higher traffic to real estate sites. Traffic to such sites grew 15 percent to 23 million visitors in July, making the sector the fastest-growing e-commerce niche. Only three of the 25 real estate sites logging 200,000 or more visitors actually saw traffic decline, while traffic to the other 22 increased by between 5 and 158 percent.
Small Advantage
One factor in big companies' favor is that shoppers tend to stick with what they know — forming clear preferences for certain sites — and larger e-commerce sites often have more resources and can do a better job of promoting themselves.
But despite the success of the Amazons, Dells and eBays of the cyber world, bigger is not always better. Small and mid-size companies are one of the fastest-growing groups to exploit the Web. "The larger companies by now have already created a presence or have chosen not to," said Bartels.
Small companies can successfully tout their Web presence by teaming with other complementary sites to offset the cost of an ad campaign or to use links to push each other's wares, much like Amazon has done. For example, "a site focused on auto repair can link out to books on auto repair on Amazon," Bartels noted.
Clearly, opportunities exist to get the word out — companies simply have to seize them.