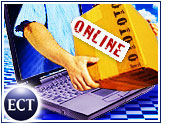 Amazon.com has once again cut by half the amount shoppers must spend to qualify for its Super Saver free shipping offer, further escalating the price war it began early this year.
The minimum order size for free shipping is now US$25, down from $49. Amazon described the move as a "long-term test of customer response" that will last at least three to six months. The Super Saving shipping option does delay the arrival of purchases by as much as five days, Amazon noted.
"The company will decide at the test's conclusion whether the $25 ordering threshold can become permanent," Amazon said.
Piling On
"Consumers have been responding to these promotions quite favorably," Morningstar.com analyst George Nichols told the E-Commerce Times. "Cheaper shipping has helped spark sales. Amazon is trying to find a delicate balance between luring those potential customers with the need to protect margins. After all, Amazon has to eat up that shipping cost."
The company debuted its free shipping promotion last fall as part of a push to drive holiday sales. At the time, shoppers had to spend $99 to receive free shipping. But Amazon surprised the e-tail world by announcing in January that it would extend the offer indefinitely. And in June, the company lowered the threshold from $99 to $49.
On the heels of Amazon's June announcement, electronics and books e-tailer Buy.com, which survived a trip to the dot-com brink of disaster last year, said it would eliminate all shipping costs, with no minimum purchase to qualify.
A week later, Buy.com raised the stakes, promising to undersell Amazon by 10 percent on all books. Company founder and owner Scott Blum later took out ads in several U.S. newspapers to urge Amazon customers to try Buy.com.
Results Vary
Amazon said it made the latest cut because of "positive results" from its free shipping offer to date. The company posted a wider loss in the second quarter compared with the first, but most analysts have remained upbeat, citing renewed growth in Amazon's core business of books, music and movies, which was stalled for much of last year.
Amazon CEO Jeff Bezos has said repeatedly that the e-tailer will seize every opportunity to lower prices. The latest move represents the fifth price decrease in just over a year. Amazon also has discounted some books during that time. "There may be reasons to shop in the physical world, but price is not one of them," Bezos.
For its part, Buy.com has said it saw a massive increase in customer traffic and sales immediately after announcing its shipping and price offers.
The Shipping News
The Amazon and Buy.com moves have reopened what many thought was a closed debate about shipping charges and online shopping. While the early days of e-tail were marked by steep discounts and free shipping offers, those promotions were later cited as the cause of death for many dot-coms.
At one point, Amazon tried to eliminate separate shipping fees by wrapping those costs into product price tags, but it backed off in the face of consumer outcry.
Some other retailers have instituted shipping deals — such as BN.com, which since last year has waived mail fees when a customer buys two or more products — but most have held the line so far.