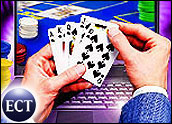 Just a day after Amazon.com halved itspurchase threshold for free shipping from US$99 to $49, e-tailerBuy.com has gone one step further,announcing it will offer free shipping with no minimum purchase.
Like Amazon's expanded offer for free shipping, the Buy.com deal will run for a limitedtime. But unlike Amazon, which said it will run its promotion for three to six months togauge its viability, Buy.com did not place a specific time frame on its deal.
Brent Rusick, Buy.com's chief operating officer, told the E-Commerce Timesthat the e-tailer plans to run the promotion for as long as possible.
"Attorneys get involved and make you say things like 'limited time,'" Rusicksaid. "We're going to run this as long as [it is a] big driver for consumers, aslong as it makes sense."
The Buy.com offer does not apply to international shipments and is valid only on certainproducts.
Action, Reaction
Buy.com founder and CEO Scott Blum made no attempt to hide the fact that the move was adirect competitive reaction to Amazon's offer, announced Tuesday.
"Amazon claims they 'lowered the hurdle' with their free shipping offer — Buy.com justran that hurdle over with our free shipping truck," Blum said. "Our site-wide freeshipping offer is just one more reason to shop at Buy.com instead of Amazon."
Citing Buy.com's no-inventory business model, COO Rusick said: "We've spent thelast year getting the company into the shape it needs to be in to do things likethis. We wanted to one-up Amazon."
The Biggest Hurdle
Many analysts have long predicted a move toward free shipping within the e-tail world asonline retailers expand their once razor-thin profit margins through cost savings.
Forrester Research analyst ChristopherKelley told the E-Commerce Times that shipping costs are cited even more often thanonline sales taxes as roadblocks that keep consumers from spending more on the Web.
"The problem with shipping costs, as with sales tax, has traditionally been that shoppersdon't know how much they're paying until they are at the last step of the checkout,"Kelley said, noting that he has long believed online merchants should search for ways toeliminate shipping fees. "They hold buyers back, both potentially new shoppers and thosewho might buy more."
Over time, Rusick said he believes all online merchants will operate with freeshipping models. "People weigh in their minds what the total cost of apurchase is going to be," he said. "It's hard for them to compare timesavings with actual dollars spent."
Point, Counterpoint
The latest back-and-forth comes as Amazon looks to strengthen its position in theelectronics category, where pure plays are facing increasing competition fromBest Buy and other brick-and-mortar chains.
On Tuesday, Amazon quietly began addingSony electronics to its listings.Previously, Sony had refused to use Amazon as an outlet for its goods. Buy.com alreadysells Sony goods.
Back from Brink
Buy.com nearly folded last summer. After being booted from the Nasdaq, it facedan uncertain future when its credit card processor threatened to terminate itsrelationship with the e-tailer.
But Blum stepped in, provided cash backing to convince the credit card company to stay,then bought Buy.com and took it private.
Since then, Buy.com has been aggressive in its marketing approach.
Top Retailer
In January, the company quickly matched Amazon's $99 free shipping deal, and at the sametime said it would launch a Buy.com magazine featuring product reviews and other content.It also revamped its approach to international shipping in a nod to the importance ofoverseas sales.
Rusick said Buy.com has seen no change in average order size since it movedfrom standard fees for shipping to its own $99 threshold offer. "I thinkover time, people will shop online more like they do in stores," he said."They'll be less wary of adding something else to the shopping cart."
Earlier this month, Blum's Think Tank announced plans to license Buy.com's e-commercetechnology to other companies, hoping to duplicate the success Amazon has had in lendingits patented online approach to third parties.
Despite its rocky history, Buy.com continues to be cited as a top online retailer byanalysts and in public opinion polls.