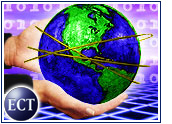 Online retailer Buy.com on Tuesday introduced expanded global shipping capabilities, including atransaction service that informs internationalshoppers of total shipping costs in their localcurrency.
To cater to its burgeoning international customerbase, the Aliso Viejo, California-based e-tailer now also discloses additional fees that might be tacked on toglobal shipments.
"Buy.com is being frugal these days," Jupiter MediaMetrix analyst Ken Cassar told the E-Commerce Times.
"If it made any material investment [in its newshipping capabilities], this tips their hand that theysee global e-commerce as a big opportunity."
Buy.com said it will fulfill international deliveries via aFlorida warehouse, allowing the company to shipproducts to an additional 15 countries.
Global Pursuit
As another phase of Buy.com's ongoing resurgence fromnear collapse,the company's latest move bodes well for its survival.
Overseas customers represent a ripe revenueopportunity for e-commerce firms, according toanalysts.
Today, the United States accounts for 46 percent of totale-commerce, but its share will drop to 36percent by 2005, research firm IDC reported.
IDC also noted that e-commerce inAsia-Pacific and Western Europe will grow at the fastest clip.In addition, growth in Internet use in the Asia-Pacific region, Latin America and other global locales soon will outpace growth in more developed countries, such as the United States, Canada and several European nations.
And by 2005, the United States will trail both Asia-Pacific andEurope in the number of total Internet users.
Overseas Opportunity
Buy.com's international customers now will see theactual price of their items at the point of purchase,rather than remaining in the dark about customs fees, duties andtaxes until they receive their receipt.
Still, the company will have to compete with localretailers that do not have to levy extra shippingcharges, Cassar noted.
"What is interesting is that other U.S. companies aremoving out of foreign countries," he said. "ButBuy.com sees a low-cost opportunity to pick upincremental revenue overseas."
Survival Prognosis
With its expanded delivery capabilities, Buy.com nowmaintains an online presence in Australia, Canada, Mexico, Switzerland, New Zealandand 11 European countries: Denmark, Finland, Germany,Ireland, Italy, The Netherlands, France, Austria, Sweden,Belgium and the United Kingdom.
The company's ability to control marketing and personnelcosts while maintaining a healthy sales stream willdetermine the trajectory of its comeback trail, Cassar said.
"It will not be as big as once planned," he noted."But in the pure-play retail space, there willultimately be a large number of small but profitable retailers."
Buy.com's global delivery enhancement marks the company's secondshipping-related announcement in as many months. In February,the company said it would waive shipping charges on domestic orders of US$99 or more that weigh less than 20 pounds.