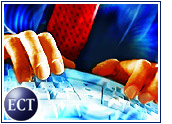 Why does there always have to be a catch?
E*Trade's (NYSE: ET)


recently announced agreement to deliverstreaming financial data and trading access throughYahoo's (Nasdaq: YHOO)


instant messaging (IM)technology shows refreshing promise and optimism.
A technophile at heart, I immediately began toimagine IM-based e-commerce scenarios that wouldrevolutionize business and consumer e-commerce.
But wait a minute. Haven't we been down this road before?
In order for IM to graduate from electronic chitchat toe-commerce, it first must close its egregioussecurity gaps.
Instant Gratification
Prevailing consensus indicates that IM — which currentlyboasts 200 million users worldwide — could become the next "killer app."
By 2003, research firm Gartner (NYSE: IT)


said, 70 percent of enterprises will employ workers who use IM services.
And by 2005, instant messaging will surpass e-mail as the primary way inwhich consumers interact electronically, according to Gartner. In addition, IM will be integrated into 50 percent of businesses' customer-interaction applications.
Research firm IDC


has estimated that by 2004, nearly 2trillion instant messages will be sent annually.
Unfulfilled Promise
E*Trade and Yahoo! are to be applauded fortrying to harness and monetize this technology's burgeoning user base.
IM's immediacy holds promise for real-timecross-enterprise collaboration, telephone-qualitycustomer service, and streamlined portable e-commerceapplications.
But for the same reason that much-hyped Web services couldstall, consumers and businesses will not conduct business over IM until concerns about the security flaws inherent in real-time connectivity are assuaged.
IM market share leader AOL Time Warner (NYSE: AOL)


undoubtedly would agree. Earlier this year, thecompany discovered a "buffer-overflow" vulnerabilityin its AOL Instant Messenger


product that could have allowedhackers to take control of desktop computers andcripple entire corporations with worms and viruses.
On January 3rd, AOL Time Warner claimed it had repaired the glitch.
Dangerous Communication
The problem with IM is that it relies on insecurecommunication protocols that cannot be policed bytraditional firewalls and gateways.
What is more, it is difficult to scan files for viruses attached to IMmessages.
Not surprisingly, some analysts are pushing forenterprise-class versions of IM technology that have tighter security provisions.
Perhaps an industrial-strength version of Microsoft's (Nasdaq: MSFT)